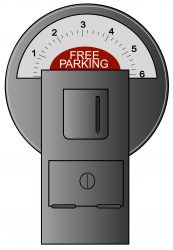 ATTENTION SUMMIT SHOPPERS!
Parking just got a little easier – and cheaper – in Summit this holiday!
To help promote area businesses, and encourage local shopping this holiday season, the City of Summit Parking Services Agency is making a number of parking modifications and providing parking incentives in downtown Summit.
Thursday,

November 24 through Saturday, November 26

are designated as parking holidays in downtown Summit with NO FEES REQUIRED IN LOTS OR AT METERS!
From December 12 to December 24, 90-minute street meters in the center of downtown will be bagged, offering COMPLIMENTARY PARKING with a 90-minute time limit strictly enforced to encourage turnover and deter long-term parking.
Saturday, December 31 and Sunday, January 1, 2017 are designated as parking holidays in Summit with NO FEES REQUIRED IN LOTS OR AT METERS!
"It is a priority for the city to continue to do everything we can to support local businesses," explains Summit Common Council President Mike McTernan. "The holiday season is an excellent time to implement parking incentives to encourage people to spend time and money in downtown Summit. These modifications by the Parking Services Agency will provide a needed boost for local merchants and enhance the experience of visiting our downtown."
For more information on parking in Summit, please contact the Parking Services Agency at parking@cityofsummit.org or 908-522-5100.