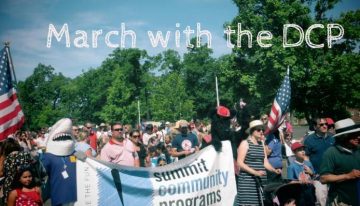 It is a treasured small town tradition – the Memorial Day Parade.  And every year Summit's parade is led by the proud members of the Summit American Legion Post.   Summit civic and school groups march along with veterans, as well as the Summit High School marching band, Summit Police Department, Summit Fire Department, First Aid Squad, and local scout troops.
And you can march too! Don't have an organization to march with? Look for the City of Summit Department of Community Programs' purple banners at the start of the parade and march with DCP staff, including Shark Diddy and Scotty McMuni!
If you don't feel like marching and prefer to watch the parade, gather along the parade route –  DeForest Avenue, to Beechwood Road, to Springfield Avenue and then Maple Street ending up at the Village Green. Flags will be distributed to the crowd by marchers on the route.
When the parade ends at the Village Green the Summit High school marching band will perform.  There will also be a rifle salute, wreath-laying, and a special performance of "taps." A Summit Veteran Lifetime Achievement Award will be presented followed by readings from local students.
What's a celebration without refreshments? Free hot dogs and cold drinks will be served on the Village Green courtesy of the Summit Elks Lodge.
A special note for Veterans: Veterans who attend the ceremony will receive a 2016 commemorative coin in recognition of, and appreciation for, their service.  Veterans who are unable to march may request a convertible ride in the parade.  Please meet members of the American Legion at the start of the parade at 25 DeForest Avenue to request assistance.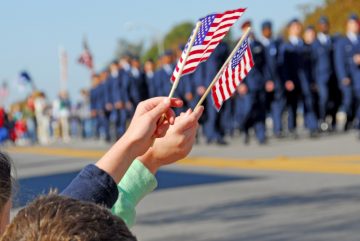 Details on Memorial Day in Summit: 
Parade leaves at 10:00AM from 25 DeForest Avenue, Monday, May 30
Following the parade the Village Green Ceremony features SHS Marching Band, Rifle Salute, Wreath Laying and Special Performance of "Taps"
A Summit Veteran Lifetime Achievement Award will be presented followed by readings from local students
Refreshments will be served!
To register your organization to march in the 2016 parade, contact Andy Smith at asmith@sslegalservices.com