The kids are back in school, but there are still a few more days left to enjoy the warm weather. Here's a list of the best ways to make the most of the season's final days.
1. Go for a swim
Test the waters at some of our local lakes and waterparks—including Graydon Pool (a day pass is $10) and the lake and water slides at Tomahawk Lake before they close for the season on Labor Day.
2. Take a trail or wagon ride
Hit the trails by horse-back, or by wagon. A list of guides and stables that will provide a day of fun and horsing around.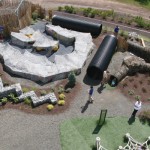 3. Feed your brain
It's your family's last chance to see soon-to-end exhibits like the hands-on the Design Lab at the New York Hall of Science . The Bronx Zoo Dinosaur Safari  or watch an amazing 3D movie at  Liberty Science Center .
4. Visit Outdoor Art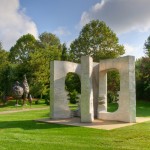 Grounds for Sculpture in Hamilton, NJ has a 35-acre arboretum, Zagat-rated restaurant, and variety of workshops and events at Grounds For Sculpture are grounds enough for a  visit. There are more than 250 sculptures in the evolving outdoor permanent collection as well as workshops on topics such as ceramics, stone-carving, photography, and yoga for adults and children, plus lectures, concerts, and tours—even touch tours for the blind. While outside food isn't allowed, you can pre-order a picnic at Peacock Café and eat it on the grounds, or make a reservation for a more elaborate dining experience at Rat's Restaurant, which overlooks the sculpture park and a Monet-inspired lily pond.
5. Spend a day on a lake
On Lake Hopatcong go to Lakeview Marina  where you can rent speed boats with drivers by the hour. Take water skis, wakeboards and tubes for some fun on the water. Or rent a pontoon boat and cruise the entire lake. Don't miss Alice's restaurant for a delicious meal at the waterview bar.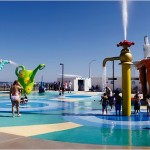 6. Get drenched at a spray park
New Jersey and New York City are filled with cool-down play spots. If you love taking your kids to playgrounds, you will love taking them to playgrounds with water. Here's a list of public playgrounds with spray parks, sprinklers, and other water play opportunities.
7. Enjoy a beer alfresco
Drink like the Europeans do at one of these hot "Biergartens" in the area. A good beer garden might leave you wondering why you're not spending every weekend drinking out of a stein while basking in the sunshine.
8. Picnic at a local nature center
Pack a picnic basket and find the perfect natural setting at one of these wildlife centers: Meadowlands Nature Center, Wyckoff Environmental Center, Duke Farms, Tenafly Nature Center, and NJ Botanical Gardens.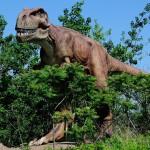 9. Take a day trip
You don't have to go far for an end-of-summer getaway. Frenchtown, NJ offers river tubing, shopping and fine dining, while Field Station: Dinosaurs takes kids on a trip back to the prehistoric area . Drive a little further to see the Adventure Aquarium in Camden, NJ and the new exhibit KidZone, which encourages children 6 and under to connect with nature by getting hands-on.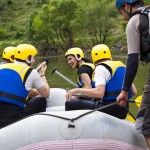 10. Check out white water rafting
The world-famous Lehigh River Gorge in Pennsylvania's Pocono Mountains is home to one of the most popular whitewater rafting trips in the country. Their last dam release weekend is September 1&2.