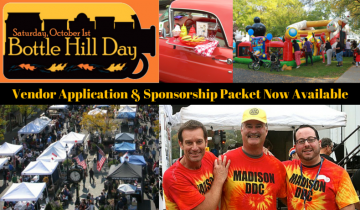 Bottle Hill Day, Madison's biggest annual festival, takes place this Saturday, October 1st in downtown Madison. This annual festival started more than 30 years ago and now attracts thousands of visitors.
Shoppers Paradise! This year there will be more than 200 vendors, including many local crafters. Madison's retail businesses will remain open, offering sidewalk sales and festival related discounts.
Arrive hungry! 

Choose from a

variety of delicious foods. Or visit your favorite downtown restaurant for breakfast or lunch.

Kids will have a blast!

There are plenty of amusement rides and interactive family fun activities.

And so will the Adults!

Enjoy a beer with friends at the Bottle Hill Beer Garden.

Cut a rug!

Four stages with live musical entertainment will keep you grooving.
Calling all car enthusiasts! The Chamber of Commerce and Madison PBA #92 will again host the annual Madison Car Show in conjunction with the festival.
And as if all of this were not enough, The Morris and Essex Kennel Club will host the Morris & Essex 2016 Match Show AND My Dog Fun Day at Dodge Field in conjunction with Bottle Hill Day.   The Kennel Club, founded in 1927 by Madison benefactor Geraldine Rockefeller Dodge, originally held shows on Dodge's Madison estate.
For additional Dog Show details visit Dog Show
ONE MORE THING – Drew University of Madison will be have a fireworks display starting at 9PM.   Seating area opens at 8:30PM at Tilghman Field.  For parking and other info visit Drew Fireworks display
Personally, my favorite part of the day is connecting with old friends at the Festival's Beer Garden. Each year is a great time accompanied by good music, friends old and new, and plenty of Madison camaraderie.
The festival takes place rain or shine on October 1 from 10:00am to 5:00pm.
Pick up a copy of this week's Madison Eagle insert with detailed map of all the Bottle Hill "happenings"