Are you getting ready to begin the daunting task of shopping for your college dorm room? Are you struggling to figure out where to start? Look no further!
Whether you are looking to style your college dorm room, re-imagine your bedroom, or design your first apartment, Dormify is the perfect tool! The ecommerce brand helps you plan and design a stylish room and purchase unique merchandise—all directly from their website!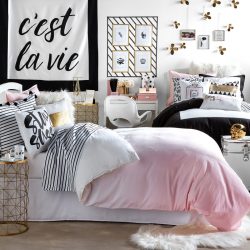 I spoke with Ridgewood resident and Dormify president, Caren Sinclair-Kay. She gave me the lowdown on Dormify and shared valuable decorating tips as well.
Shopping for a dorm room can be stressful. The shopping experience at a store like Bed, Bath, & Beyond can feel chaotic, impersonal—potentially amplifying your dorm-related stress. BUT… shopping for your dorm room does not have to be overwhelming!
Dormify provides a completely different experience by focusing on inspiring design and originality through their website or their other direct styling initiatives.
Log onto Dormify and explore tools including design plans, their collections, room styling, and online chats with stylists. These unique features help foster originality, inspire creativity, and cultivate a unique and personalized style.
For a more hands-on approach, book an in-office appointment with a stylist at the Dormify showroom at their Headquarters in New York City at no charge. Stylists will work with you to curate a trendy room based on your personal style, ensuring an enhanced and stress free shopping experience.
Or, plan a local Dormify show or an appointment held in the convenience of your own home where stylists work directly with you throughout the process to design your dream room! Does it get any easier than that?
Dormify takes a process commonly regarded as tedious and transforms it into an enjoyable expression of personal style and creativity, working to quell the question on every college student's mind: Where to begin?
Starting from scratch can be daunting, so finding inspiration is crucial. Sinclair-Kay's number one piece of advice regarding decorating inspiration? Look to social media! Check out Dormify's Instagram account for artistic photos of rooms, beautifully styled with Dormify merchandise. Pinterest and YouTube are also great mediums to use as you get started. She suggests taking note of which styles and pieces pique your interest as this will help you get a sense of your style. In addition, check out Dormify's design plan. Filling out your unique online design plan will help you define your style. The remainder of the process is just as easy! When your design plan is finalized, simply order your pieces directly from Dormify's website—a HUGE time and money saver.
For more inspiration, look to Dormify's blog. The blog's main contributors are Dormify Style Advisors. The creatively engaging blog posts serve as an inspiration guide throughout your design process, with titles like "10 Chic Bedding Styles that Won't Break the Bank," and "Decorate Your Walls With Canvas Art as Unique as You Are." Style Advisors are High School and College-aged students who submit ideas for blog posts, provide insight into the design process, and work as ambassadors for the brand through social media promotion. Who better to help curate ideas and provide inspiration for your college dorm room than college students?
As you begin to design your room, Sinclair-Kay emphasizes that "it's all about the bed."
Since the bed is the focal point of the room, always start with the bed. Pick out fun accessories, pillows, and throws so you can turn a drab dorm-room bed into your own chic creation! From there, pick out a desk and rug to complement your bedding and pillows before finishing off the room with smaller touches and accessories like tapestries, lamps and wall décor.
Dormify Looking to the Future:
Sinclair-Kay works to build off of Dormify's core of loyal followers by expanding Dormify's network and reach beyond dorm-rooms. Customers are coming to Dormify for their kids home bedrooms and first apartments so she wants to respond to that opportunity to serve a broader market. You can expect new product categories to meet the needs of these new markets.
This year was a year of firsts for Dormify: the debut of their catalog, a line for guys, the introduction of the Dormify Stylist program, and a partnership with American Eagle Outfitters Aerie brand! By diversifying Dormify's product offerings and distribution channels, Dormify is broadening its reach with customers. In the future, you can expect more merchandise for boys and apartment dwellers and broadened retail presence, and of course, convenient and on trend décor for college bound students!
Start designing now! Visit Dormify's website!!