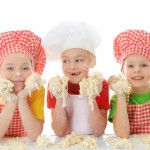 Is your child interested in the experience of camp, but not your usual sports or day camp? How about giving culinary camp or cooking classes a try?
Chef Central in Paramus offers mini-camps July through August for tweens and teens.
Sur la Table holds a variety of cooking and baking classes during a five consecutive day series to children ages 8-12 and ages 13-17.  Check the website for store locations.
Classic Thyme, located in Westfield, NJ offer 3, 4 and 5 day cooking sessions starting at 4 years old!
King's Food Market in Short Hills, NJ, holds classes for children and adults in their cooking studio as well as 3 or 5-day culinary camps for ages 8-12/teens.
If you live in the Ridgewood area, the Ridgewood Culinary Studio offers camp to children ages 8-13.
Cooktique in Tenafly, NJ offers classes to kids on Wednesdays and Fridays now through summer.
If you find yourself in the Hyde Park, NY area, check out The Culinary Institute of America. They offer various programs to children throughout the year.
For those looking for an overnight camping experience in the culinary arts… The Kids Culinary Academy of Vermont offers 1, 2, 3+ weeks of cooking camp to children ages 10-17. You can also do a week long camp at Top Cooks camp in Greeley, PA. It is a one week camp offered the week of July 21-27th for ages 9-15.