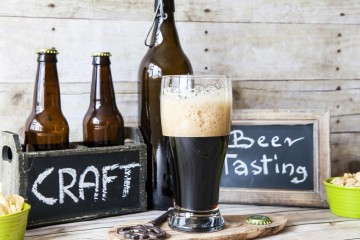 Come on down to the Big Brew Beer Festival and sample over 200 Craft Beers from more than 70 brewers from across the country. They will converge on Morristown Armory for a single-day celebration of all things craft brewing. Souvenir tasting glass in hand, visitors can sample more than 200 unique craft beers that span the taste spectrum such as B Nektar Meadery's Zombie Killer, Major Tom's Pomegranate Wheat, and Horny Goat Brewing's Peanutbutter Porter. Meanwhile, food vendors offer purchases of gourmet bites as the space fills with the sounds of live music. Enjoy upscale New American cuisine created by award-winning Chef Eric LeVine; creative comfort food  from Nicole's Ten; Zinger Tacos from Miller's Ale House and award-winning BBQ from Handsome Devil. Live music will be performed at the event.
Choose from two sessions:
Session 1 – 12:00 pm-4:00pm    Session 2 – 5:30pm-9:30pm
Visit bigbrewnj.com for tickets.
Admission is $65. Designated Drivers will be charged $15 dollars per ticket.
Save $12 by using code: LASTCALL (code expires Thursday at midnight).
The Morristown Armory
430 Western Ave.
Morristown, NJ 07960