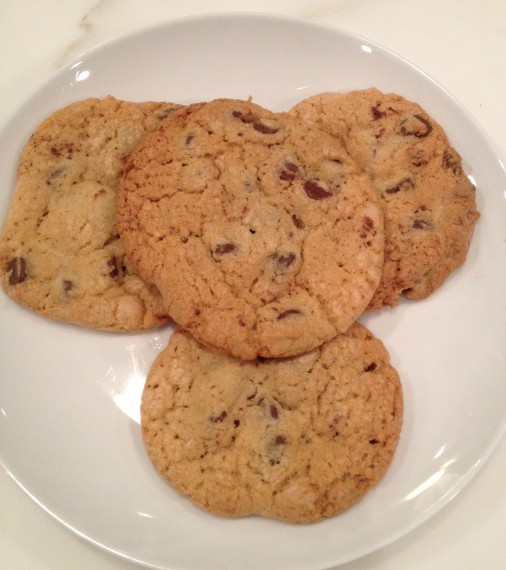 This may be the best chocolate chip cookie I have ever made. For those of you who know me well, you know I bake just about every other day. I have been searching for a good chocolate chip cookie recipe. I came across this and wanted to give it a try. I adapted it from a NY Times recipe where it was voted the best chocolate chip cookie. I reduced the salt and the chocolate chips and they were delicious. Grab a glass of milk and enjoy. Don't forget to read through the recipe. You are supposed to refrigerate the dough overnight.

Size:

3 dozen



Ingredients:
2 cups minus 2 tablespoons of cake flour
1 2/3 cups bread flour(I used all purpose unbleached flour)
1 1/4 teaspoons baking soda
1 1/2 teaspoons baking powder
1 tsp course salt
1 1/4 cups light brown sugar
1 cup plus 2 tablespoons granulated sugar
2 large eggs
2 teaspoons vanilla extract
1 12oz. bag of semi sweet choc. chips
2 1/2 sticks of unsalted butter room temperature



Directions:



Sift flours, baking soda, baking powder and salt
into a bowl and set aside.
Using a mixer with a paddle attachment, cream
butter and sugars until light and fluffy – about 5 minutes. Add eggs. Stir in vanilla. Reduce to low speed and add dry ingredients slowly,
mixing until just combined. Fold in chocolate chips. Refrigerate dough for
24-36 hours.
When ready to bake, preheat oven to 350.
Drop spoonfuls of dough
onto baking sheet. Bake for 10-12 minutes.