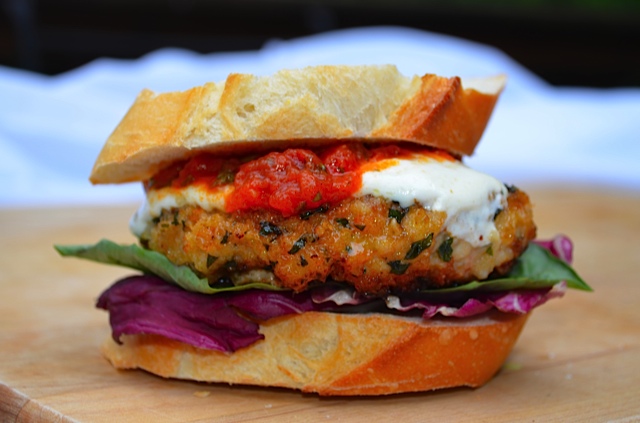 prepared by and photo by Emily Doscher

If you like chicken parmesan, then this is the burger for you!

Size:

4 servings



Ingredients:
10 1/2" thick slices French bread (4" in diameter); 8 slices toasted, 2 slices (crust removed) diced
1/2 cup finely grated Parmesan cheese
4 tbsp minced fresh basil, divided, plus 12 large basil leaves
3/4 cup purchased refrigerated marinara sauce
12 oz ground chicken (white meat)
2 tbsp extra-virgin olive oil, divided
1 tbsp grated onion
1/4 tsp salt
4 oz whole-milk mozzarella cheese, thinly sliced
4 large radicchio leaves



Directions:




Blend diced bread and Parmesan in processor to fine crumbs.  Transfer to pie dish; mix in 2 tbsp minced basil.

Mix marinara and 2 tbsp basil in small saucepan.  Transfer 1 1/2 tbsp sauce to large bowl. Add chicken, 1/2 tbsp oil, onion, and 1/4 tsp salt.  Sprinkle with pepper; blend.  Shape into four 1/2″ thick patties; coat with crumbs.  Heat sauce over low heat.

Heat 1 1/2 tbsp oil in large nonstick skillet over medium heat.  Cook patties until bottoms are crusty, 4 minutes.  Turn patties over; top with cheese.  Cook 3 minutes.  Cover; cook until cooked through and cheese is melted, about 1 minute.

Assemble burgers with bread, radicchio, basil leaves, and warm marinara.