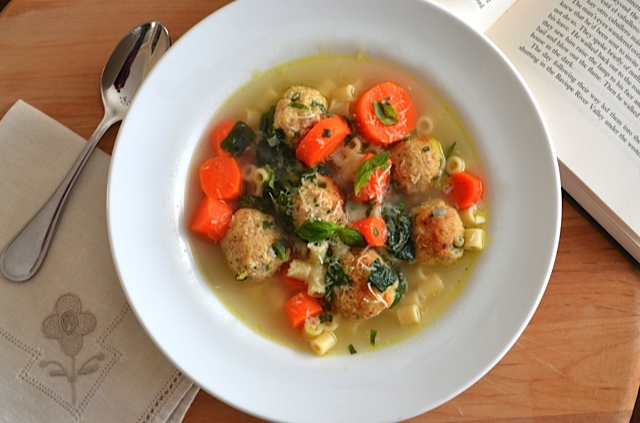 prepared by and photo by Emily S. Downs

Everyone knows that a hot, steamy bowl full of chicken noodle soup aids in the healing of many sickly symptoms, but how about switching it up just a tad?  Rather than chunks of chicken meat this recipe calls for mini chicken meatballs, allowing just that much more intensity in flavor and texture.

Size:

8 servings



Ingredients:
1 lb ground chicken
1 cup fresh breadcrumbs
3/4 cup finely grated Parmesan, divided, plus more for garnish
6 garlic cloves, (4 minced, 2 thinly sliced)
4 tbsp chopped fresh chives
2 large eggs, whisked to blend
Kosher salt, freshly ground pepper
4 tbsp extra-virgin olive oil
2 leeks, white and pale-green parts only, sliced into 1/4" rounds
10 cups low-salt chicken broth
4 cups water
1 1/2 cup ditalini or other small pasta
2 cups 1/2" rounds peeled carrots
2 cups (packed) baby spinach
Chopped fresh basil (garnish)



Directions:




Mix chicken, breadcrumbs, 6 tbsp Parmesan, 4 minced garlic cloves, chives, egg, 1 1/2 teaspoons salt, and 1/2 teaspoon pepper in a medium bowl.  Form into 1/2″ diameter meatballs (makes about 56).

Heat oil in a pot over medium heat.  Cook meatballs until golden all over, about 3 minutes (they will finish cooking in soup).  Transfer to a plate; set aside.

Add leeks to pot and cook, stirring often until beginning to soften, about 3 minutes.  Add 2 thinly sliced garlic cloves, cook for 1 minute.  Add broth and 4 cups water; bring to a boil.  Stir in pasta and carrots; simmer until pasta is almost al dente, about 8 minutes.  Add meatballs; simmer until pasta is al dente, carrots are tender, and meatballs are cooked through, about 3 minutes.  Add spinach and remaining 6 tablespoons Parmesan; stir until spinach is wilted and Parmesan is melted.  Season with salt and pepper.

Ladle soup into bowls.  Garnish with chopped basil and Parmesan.