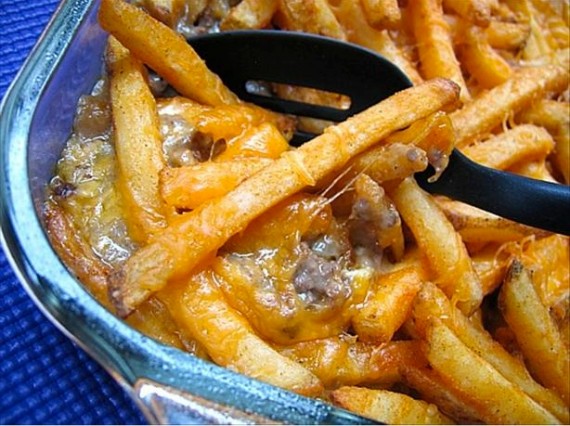 photo by Juju Bee/ food.com

Thank you food.com for allowing me to share to the good folk who follow us, this scrumptiously cheesy, burger and fry combo casserole.

Size:

6 servings



Ingredients:
2 lbs lean ground beef
1/4 tsp salt
1/2 tsp pepper
1 tsp minced garlic
1 (10.75 oz) can cream of mushroom soup
1 (10.75 oz) can cheddar cheese soup
1 (20 oz) package frozen French fries, any style
2 cups shredded cheddar cheese
Toppings (optional): chopped pickles, chopped tomato, ketchup mustard, chopped raw onion



Directions:




Preheat oven to 375F.

Fry ground beef until completely cooked. Drain off grease.

Add salt, pepper and garlic… stir to combine. Add both soups and stir until well blended. Heat through on stove and then transfer to a 9×13″ glass pan.

Place French fries over mixture, covering beef mixture.

Bake for 30 minutes, until fries are crispy.

Sprinkle cheese over top of casserole and return to oven until cheese is melted, about 5-10 minutes.

Serve toppings alongside or sprinkle over casserole just prior to serving.