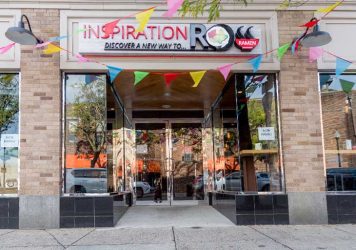 If you're looking for a great new lunch or dinner spot in town you are in luck!  Inspiration Roll opened this week on Quimby Street.
First of all, the restaurant is clean and bight. The staff is so friendly and helpful in helping you figure out what you want to order. They even let you try out some of the different ingredients and sauces.
You can choose from a sushi burrito, fresh salad or rice bowl. They also specialize in ramen noodle soups. The ramen bowls offer a unique spin on the traditional ramen noodle soups.
Choose from one of their signature rolls or bowls, or you can create a custom one
of your choice from their wide variety of ingredients. From spicy to vegetarian there really are some many items to choose from.
I ordered a rice bowl with multi-grain rice and spicy tuna. You can top it off with many different sauces. I went with the original poke sauce. They let me try a sample beforehand, and I have no idea what they put in there, but I could just drink it with a spoon. It is so good.
I spoke to one of Inspiration Roll's partners, and he said Inspiration Roll is so excited to be open in Westfield and become part of downtown.
If you mention this post from Tip From Town you can get 10% off your order!

Check out their website at: www.inspirationroll.com