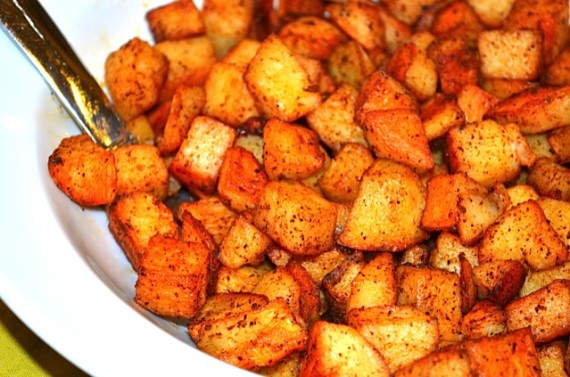 prepared and photographed by Emily S. Downs

Jazz-up biddy tater bits with a little Creole kick.  A spicy potato parade for your taste buds.

Size:

serves 4-6



Ingredients:
6 large red-skinned potatoes (about 2 1/2 lbs), peeled, cut into 1/2" pieces
1/4 cup olive oil
1 tsp paprika
1 tsp chili powder
1 tsp Creole or Cajun seasoning



Directions:




Preheat oven to 400F.  Cook potatoes in medium pot of boiling salted water until almost tender, about 5 minutes.  Drain well.  Place potatoes in a large bowl.  Drizzle olive oil over potatoes and stir to coat.  Sprinkle with paprika, chili powder and Creole seasoning.  Season with salt.  Toss potatoes to evenly coat with seasoning.

Spread potatoes on heavy large baking sheet.  Bake potatoes until crisp, turning with metal spatula every 10 minutes, about 40 minutes total.