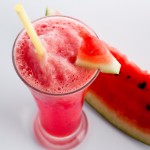 DRINK
Watermelon Lemonade is a staple cocktail both with or without gin in summer. Watermelon is at it's peak, and what makes better sense to quench your thirst at the beach than lemonade? In Bermuda, they use Gosling's Rum and ginger beer, but try a Dark and Stormy with ginger ale too. You could also whip up some low-carb cocktails for lower sugar content.

FOOD
Use your grill to whip up Emily's Grilled Pizza w/Fontina & Arugula (cut into small bites) or Grilled Bread w/Arugula, Goat Cheese, Olives & Onions. I've had these Avocado and Greek Yogurt on Rice Cracker appetizers, they are good for you and addictive. I've also made Emily's Arugula, Yellow Tomato, & Nectarine Salsa, healthy and delicious!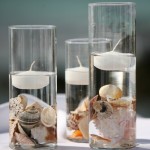 DECOR
Make your centerpieces fun and beach inspired by incorporating starfish, shells, sand and light colors. Freshen up the traditional option with unique holders, like mason jars or interesting vases. Try some of the summer table decor ideas from my previous post. Personalized napkins are the perfect finishing touch for your party.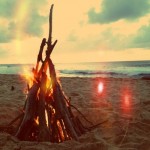 FUN
If you can safely set up a bonfire party, check out this previous post on bonfire party themes. They can turn a summer evening into a memorable party among friends and family. Ideal locations include a beach with a sandy pit, a fire pit in a backyard or field, or a local campground. Or get some fun pool toys to bring your party to the next level.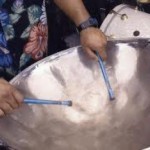 MUSIC
Hire a steel drum band or just load up your ipod and set the laid-back tone with this suggested playlist:
Three Little Birds – Bob Marley

The Summer Wind – Frank Sinatra

Shine – Collective Soul

Summer Girls – LFO

Home – Philip Phillips

Beyond the Sea – Robbie Williams

Summertime – Sublime

Sittin' on the Dock of the Bay – Otis Redding

Somewhere Over the Rainbow – Israel "Iz" Kamakawiwo'le

California Gurls – Katy Perry

Here Comes The Sun – The Beatles

I'm Yours – Jason Mraz

Summer Love – Justin Timberlake

Sweet Pea – Amos Lee

Is This Love – Bob Marley

Colors – April Smith and the Great Picture Show

Saturday in the Park – Chicago

Under the Boardwalk – The Drifters

Drops of Jupiter – Train

Cups – Anna Kendrick