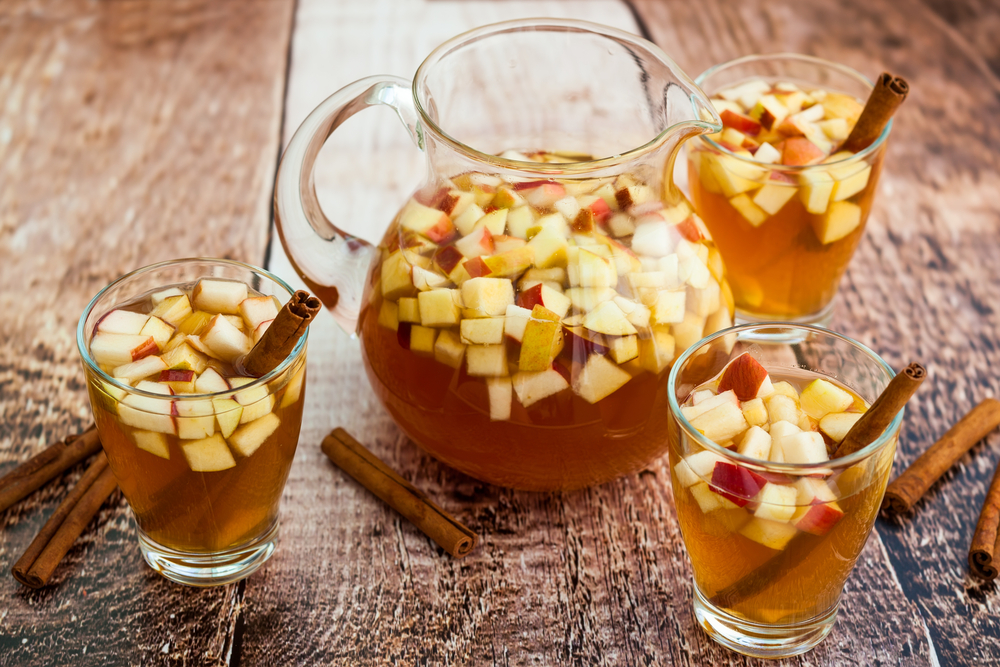 Sangria can be enjoyed throughout the various seasons. This version incorporates autumnal spices and and apple cider. Your house will smell delicious as you prepare it too.

Size:

serves 7



Ingredients:
3 cups apple cider (non alcoholic)
2 tbsp sugar
6 whole cloves
4 cinnamon sticks
4 allspice berries
1 apple (cored and sliced thin)
1 red bartlett pear (cored and sliced thin)
12 ozs seedless grapes (I like using red or purple)
2 1/4 cups shiraz (or syrah works well too)
1/2 cup cointreau (or triple sec)
1/4 cup brandy
1 1/2 tsp pure vanilla extract



Directions:




In a small saucepan, whisk together the apple cider and sugar* over medium heat until the sugar is dissolved.

Add the whole cloves, cinnamon sticks, and allspice berries. Bring the mixture to a boil. Let it simmer for 2 minutes. Remove from heat and allow to cool to room temperature. Strain the cider.

Place the sliced fruit and grapes into the bottom of a glass pitcher. Pour in the strained cider, red wine, Cointreau (or triple sec), brandy, and vanilla. Stir.

Chill the sangria for at least 3 hours, up to overnight. Stir again before serving. Pour sangria and a few pieces of fruit into each glass.

* This sangria is sweet… so if you want to cut the sugar… cut in first step of prepping.