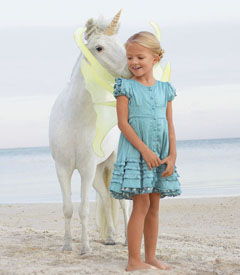 This may be hard for you to believe, but as a kid I was the biggest tomboy… seriously. Which is why it is so funny to me that I remember actually liking getting dressed up for Easter. My mother made us go all out too- from the frilly pastel dress to the somewhat tacky Easter bonnet. So, I'm not really sure why during my days with boy short hair and scraped knees, getting dressed up for Easter didn't bother me? Maybe I felt like my Easter bonnet gave me a slight edge in the Easter Egg hunt by doubling as an additional basket to collect the most eggs. My girly dress may also have led the boys to believe I wasn't much of a threat to be the one to find the coveted "Golden Egg".
If you are looking for some last minute Easter outfits for your kids, Chasing Fireflies has some adorable choices… Here are my favorites!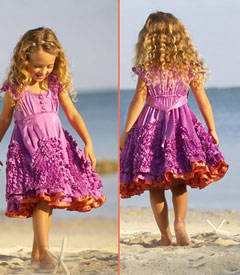 lavender faerie dance dress
Lush and luminous, this dress casts a magical spell on little girls. Adorned with a twirly skirt and cascades of ruffles, it's detailed with covered buttons and a tie-back sash. It has frilly cap sleeves and a contrast taffeta ruffle.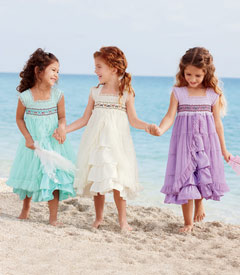 springtime fairy dress
Fairies, dancers and girly-girls love ethereal dresses like this spectacular confection. Its shirred bodice is accented with a band of embroidered and beaded flowers. The skirt is a whirl of satin ruffles with a split-front tulle netting overlay. Tulle trims the bodice and a satin sash ties in back.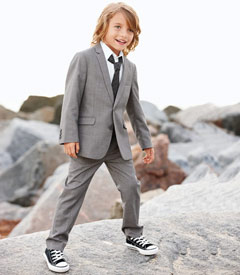 slate gray suit
What a little gentleman he is! When dress-up occasions arise, you'll be glad for this comfortable, well-made suit. The jacket is fully lined, with pockets inside and out. The pants feature all the finely tailored details you'd expect, with an adjustable elastic waistband that's perfect for growing boys.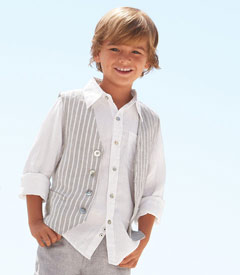 gray striped linen vest
He'll look smartly dressed in this classic linen vest. The fabric is incredibly soft and cool, and the vest is beautifully made. Features narrow stripes, welt pockets, a back buckle and lining. Don't miss the mother-of-pearl buttons.