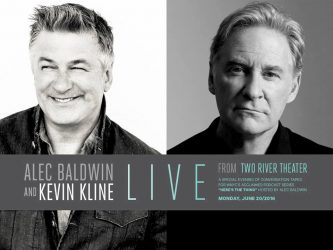 Monday, June 20, 2016  •  8pm
Alec Baldwin and Kevin Kline: Live from Two River Theater!
For one night only, witness a special evening of conversation as Alec Baldwin and Kevin Kline share what inspires their creations, what decisions changed their careers, and what relationships influence their work. This conversation will be taped for WNYC's acclaimed podcast series, Here's The Thing.
All proceeds benefit Two River Theater.
Tickets start at $75! Buy tickets here.
Big fan of Alec and Kevin? Tickets are available for an exclusive VIP reception prior to the performance. Tickets and sponsorships begin at $350. Only 20 VIP tickets are on-sale now.
For more information, contact Camille Susarchick, Individual Giving Associate, at 732.345.1400×1805 or csusarchick@trtc.org.