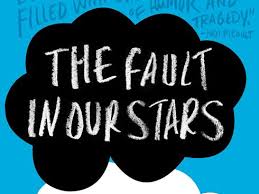 I watched both my 12 and 11 year old daughters devour The Fault in Our Stars the way I devoured Are You There God, It's Me Margaret at their age. Of course, I had to join in the fun, and I too finished it in record time. It is a bittersweet story of love and loss, of youth and tragedy. John Green writes of three teenagers dealing with childhood cancer and trying to manage coming of age at the same time. The content is obviously heavy, the narration though, is light and funny at times and is consistently beautiful. My kids and their friends are quoting the book at every turn.
"Pain demands to be felt."

"Turns out, the world is not a wish granting factory."

"I fell in love the way you fall asleep. Slowly, and then all at once."
When the movie came out, we were first in line. While there was some mildly inappropriate content for a preteen, because they had read the book, it was taken in context. This is one of the few movies I have ever seen based on a book that rivaled its printed partner. Still, I would recommend reading the book before seeing the movie. Especially if you are concerned about a younger child reading it, you should judge it for yourself first. The movie is very much like the book and there will be no surprises for you in terms of what your child will see.
It has been criticized for lacking faith. The afterlife and the existence of a God was brushed over in just one scene I can remember. If this bothers you, think of the novel as a great jumping off point to discuss faith with kids who are at a pivotal and vulnerable time in their lives. This is the sort of story which will live with you for some time after you close the book or leave the theater. It is a great conversation starter for issues sometimes difficult to address — sex, life and death, respect, values, gratitude and faith.
As an aside, there was something I found very interesting. My girls and I came at the book from very different places, something I didn't realize until I sat through the movie with them. It was the sweet love scenes and adolescent struggles which touched them deeply. I, on the other hand, sobbed like a baby anytime the parents of the sick kids came on the screen. What an amazing talent in Green to be able to reach me in my girls in such different but equally deep ways.