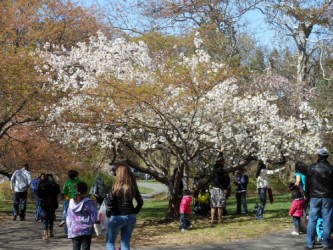 SEE NEW JERSEY'S CHERRY BLOSSOMS!
No need to make a trip to Washington DC to enjoy the beauty of Spring's Cherry Blossoms.  Here in New Jersey you will find the largest collection of cherry blossoms in the United States at the Essex County Branch Brook Park.  There are a total of more than 4000 trees, the largest percentage of which are Japanese cherry blossoms.
Thousands of visitors flock to the park every April for this Essex County tradition.   The Family Day Festival takes place on Saturday, April 16 from 11am to 3pm.  Admission is free and families can enjoy hula hooping, paddle boats, face painting, and food vendors.  Earlier in the day you may participate in 1 mile fun run/walk from 10am to 11am.
April festivities include a Cherry Blossom 10K Run and Bike Race; culminating in Bloomfest on Sunday, April 24.
Guided Historic Park Tours are also offered from Sunday, April 17 through Saturday, April 23 (11am, 12noon, 1pm and 2pm).
For additional details and information, visit the park's calendar page.
More information i.e. address, location, parking –  General information