New Years is all about making resolutions and creating a better version of you. Like many, you may have resolved to lose weight, work out more, and get your finances in order. Great goals, but what about your home? Your home is not only important in terms of aesthetics, but also in the feeling you get while you are there. I call this the "does your house feel like a home?" factor. If you dread walking into a certain room or just want to create an environment that supports a healthy mood, then these home resolutions are for you. Not to mention, anything you improve in your house will help keep the value and/or keep from facing bigger problems down the road.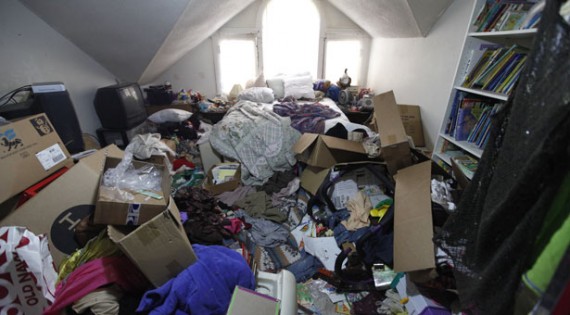 1. GET RID OF ONE BAG OF "STUFF" EVERY WEEK UNTIL MEMORIAL DAY:
If you haven't watched the new binge worthy show on Netflix, Tidying Up With Marie Kondo, stop reading this article and watch at least one episode. Then, come back to me. Kondo, a Japanese organizing consultant famous for her book The Life Changing Magic of Tidying Up, expounds the idea you can't feel good in your home if it is cluttered. I agree. No matter how beautiful your house or how perfect the finishes and furniture, if there is too much stuff, you will never love your space.
Psychology Today explained that clutter, physical and mental, can interrupt your ability to think. They called it the "clutter effect."
In fact, many studies on stress, life satisfaction, physical health, and cognition all emphasize that decluttering can make one of the largest impacts on your happiness and health.
Here is my advice: every week for the next 6 months, choose an area in your home to edit. This could be a closet, a room, a set of drawers. If you don't love it, either donate or throw it out. Marie Kondo states that the best method of doing this is to look at each item and only keep those things that "spark joy." I love this idea. This applies especially to clothes, books, and knick knacks.  After using Kondo's method, if you can get rid of the equivalent of one bag of your unwanted stuff each week. By the time you are hosting your first bbq, you will be feeling more free and happy in your home than you could ever imagine.
2. TOUCH UP PAINT:
In a perfect world, we would paint once every 10 years and forget about it. The walls and trim would stay in pristine condition until either we were sick of the color or ready to move. However, we all live real lives in our homes with pets, kids, and vacuums. Our walls are constantly being touched by dirty little hands and hit by sports equipment coming in the door. Touch up must be done at least once yearly. You can either hire a painter or DIY it.  Touch up any places where the paint have been marked, chipped or just look dingy and dirty. Hopefully, you have a list of the colors and sheen of each paint in your room. You should always have at least of a quart of every room's paint as well as your trim paint on hand before touch ups begin. First, walk around and see which walls and trim need work, and assess how much needs to be done. If you decide to go with a professional painter, they will usually charge you for a day's work to touch up. Plan to spend about $300-400 per day for this type of touch up service. The most important thing to ask them is if they will repair any deep gauges that your vacuum or puppy may have caused to your molding. Lastly, don't forget your ceilings. A dingy or dinged ceiling can make a whole room look shab.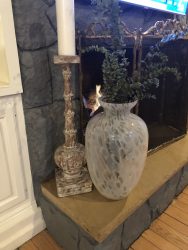 3. GO TO YOUR FAVORITE DISCOUNT HOME STORE AND SPEND $200 ON THINGS YOU LOVE: I know, I know…I just told you to edit and declutter and now I am advocating going out and buying more stuff. Hear me out. If you go to a place like HOMEGOODS or my new favorite Westwood home store, White Oak Home, with a $200 budget and only buy things for your home that you just fall in love with (or SPARK JOY), you will be more motivated to get rid of all the junk around the area where you want to put your new treasures. A few new home accessories will inspire you, and they do not have to cost a fortune. I purchased both this vase and candlestick at Homegoods a few months ago, for under $75. I fell in love with them immediately and am so glad that I didn't pass them up (because as many of you know, if you pass something up at a place like Homegoods, it WILL be gone when you go back.) If you aren't sure, then it is not for you. When you really love something for your home, your heart will sing when you pass it on the shelf. Think of it as love at first sight.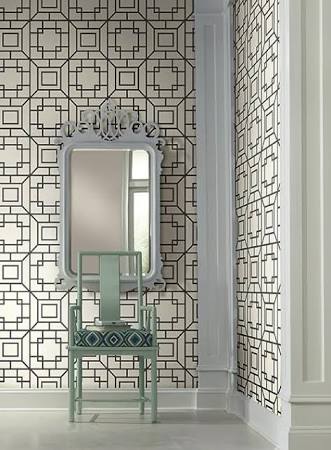 4. FIND ONE PLACE IN YOUR HOME TO ADD WALLPAPER: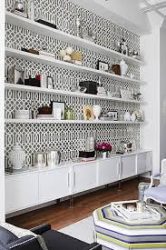 I get this response from many of my clients — and inevitably their husbands — "Isn't wallpaper outdated?" My immediate response is always the same. Absolutely not. Actually, wallpaper is the easiest, most economic way to modernize your home. I am not talking about your grandmother's wallpaper. Today, wallpaper is gorgeous and the options are endless. If you are not ready to wallpaper a whole room (although taking the leap of faith and choosing an amazing wallpaper for your dining room or powder room will be one of your favorite design decisions and you'll wonder why you waited so long to take the plunge), then think about wallpapering behind a built in book case. It will give your room texture, visual interest, and can help a room look "done" with very little money or effort. There are so many amazing patterns to choose from but my biggest advice is to go bold when choosing wallpaper for this type of project. Also, just like the accessories you are choosing, only pick a wallpaper that you fall in love with at first sight. Be bold, but of course, make sure it coordinates with the rest of the colors in your room.
5. DO BASIC MAINTENANCE ON YOUR HOME: 
Maintaining the systems in our houses isn't glamorous or fun, but it is a necessity of home ownership. Many of these home maintenance tasks probably should have been done before January, back before cold weather set in, but better late than never.
TURN YOUR OUTDOOR SPIKET OFF FROM INSIDE AND DRAIN YOUR HOSES AND BRING THEM INSIDE
CLEAN YOUR DRYER VENT -this is a huge priority as build up can cause a fire. If you do not know how to do it yourself, there are many local companies that offer this service.
CHANGE ALL THE AIR FILTERS FOR YOUR HVAC SYSTEM
MAKE SURE ALL YOUR LAWN IRRIGATION SPRINKLERS HAVE BEEN WINTERIZED
HAVE YOUR CHIMNEY CLEANED BY A PROFESSIONAL CHIMNEY SWEEP He probably won't look like Dick Van Dyke or Lin Manuel Miranda but you may feel like you are in Mary Poppins just making the call.
CHECK YOUR CARBON MONOXIDE DETECTORS – Hopefully, you checked the batteries in your smoke detectors and CO2 detectors when we changed the clocks, but did you know that these detectors are only "good" for a certain number of years. They will have expiration dates on them. It's good to check if it is time to change the detector all together.
REPLACE BATTERIES IN YOUR THERMOSTATS – This is something that is overlooked by most homeowners. If the batteries die, you will be left with no heat until you can find the type of battery you need. It's better to have a supply of these batteries on hand or change them all every Super Bowl Sunday (easy date to remember) so that you don't end up with no heat during a storm when it's 20 degrees outside.
MAKE SURE YOUR WATER SOFTENER IS SERVICED AND YOU HAVE EXTRA SALT. The hard water in many suburban towns is tough on your skin, hair AND your pipes.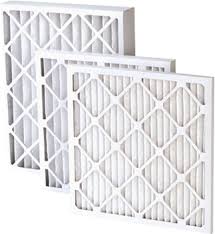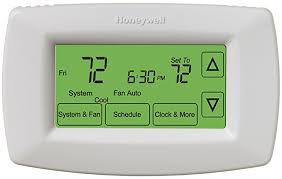 In our busy lives, it is easy to take our homes for granted, but with some love and attention, you can turn your home into something additive to the overall wellbeing of you and your family.