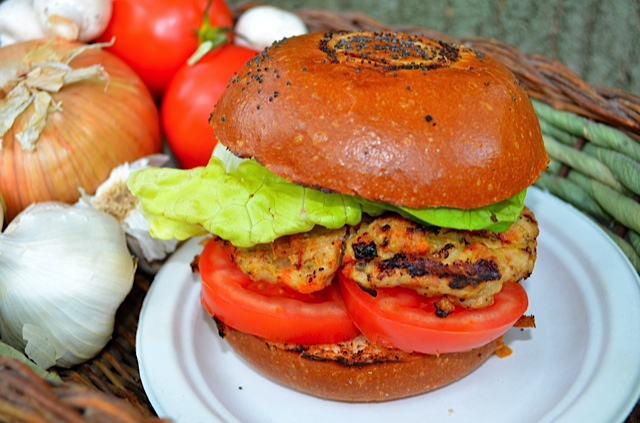 prepared by and photo by Emily Doscher

Grilled chicken burger patties are enhanced with freshly chopped vegetables and seasonings.

Size:

makes 8



Ingredients:
1 onion, chopped
2 tsp minced garlic
1 red bell pepper, chopped
1 cup fresh sliced mushrooms
1 tomato, seeded and chopped
1 carrot, finely chopped
2 lbs ground chicken
1 egg
1 cup fresh bread crumbs
1 tbsp Old Bay Seasoning
Kosher salt to taste
Black pepper to taste
Sliced tomato, if desired as topping
Lettuce leaves, if desired as topping
Onion rolls, or brioche rolls, sliced



Directions:




Preheat an outdoor grill for medium heat and lightly oil grate.

Lightly spray a saute pan with cooking or oil spray over medium heat.  Saute the onion with the garlic, first, then the bell pepper, then the mushrooms, tomatoes and carrot, all to desired tenderness.  Set aside and allow all vegetables to cool completely.

In a large bowl, combine the chicken and vegetables.  Add the egg, bread crumbs and seasonings to taste.  Mix all together well and form into 8 patties.

Grill over medium heat for 5 to 6 minutes per side, or to desired doneness.  While meat is being grilled, toast buns on grill.

Top burger with lettuce and tomato, if desired, on toasted buns.