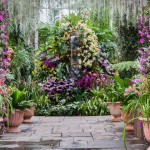 Are you a member of the orchid lover community? If you answered yes, in the upcoming weeks your plans should include a visit to The New York Botanical Garden for The Orchid Show: Orchidelirium.
The Garden's annual show is running now through April 17, 2016.
I was curious about the origination and definition of the word "orchidelirium". And found out it refers to the 19th century Victorian era of flower mania, when collecting and discovering orchids reached an extraordinarily high level, and wealthy collectors searched all over the world for new varieties of orchids.
I also found out that there are more than 25,000 different kinds of orchids throughout the world. I had no idea!
The NY Botanical Garden's collection, designed by Christian Primeua, who oversees tropical plant collections, is showcased in the Enid A. Haupt Conservatory. Described as an "explosion of color" you will find orchids in every imaginable shape and size.
For your enjoyment, the show also features poetry, art, and music
And on select "Orchid evenings", take a romantic stroll through the Haupt Conservatory while sipping a complimentary signature cocktail, and observe a technicolor after-dark look at Orhidelirium.
Orchid Evenings dates:
Saturdays: March 5, 12, 19, 26 and April 2, 9, 16
Friday, April 15
Non-Member $35 / Member $25 (Adults 21 and over)
Advance tickets recommended 
On March 12, 19, April 2, and 9, upgrade your experience with the Young Garden Circle Lounge for skip-the-line access; an open bar featuring beer, wine, and specialty cocktails; and light bites.