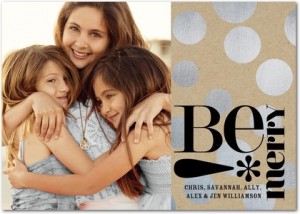 If you want to get a head start on your holiday cards, get great-looking holiday cards through a number of fantastic websites. Go through your photos for the year and pick out favorites and the ones that best define your year. If you have multiple photos, you can customize a flat card, a tri-fold, booklet, or newsletter style option. Other new additions include ornament cards, postcards, heavier paper stock, and coordinating return address labels.
For example, when creating holiday cards at TinyPrints.com, you will select a design first and further customize the design with your own photo(s), text, format, color, and quantity preferences. Another advantage to customizing your cards at TinyPrints.com is that you're bound to find a design that suits your style. They will even send out your cards for you to U.S. mailing addresses.
Minted.com holiday cards are now available in one-of-a-kind shapes, making your card a standout. Buy now, and upload photos later (if you don't already have them). Smart and chic, their new postcard format lets you send holiday greetings while saving on postage. Or on the higher-end, try their exclusive TripleThick™ paper. It is three times as thick as the already luxurious Signature Paper. Resembling museum board, it is the first of its kind available for photo holiday cards.
PearTreeGreetings.com is another fabulous website for creating unique and stylish cards. You can choose from a wide variety of designs, sizes, shapes, and colors. In addition, you'll also have the option of ordering holiday address labels and letter inserts to give your cards a more personal touch. Their top ten cards include a NewsletterSstyle and Christmas Ornament Card.
For cards featuring more sophisticated, traditional designs, try BoatmanGeller. Boatman Geller offers quality photo cards with clean, classic, fresh and preppy designs like madras, plaid, chevron and stripes. Their collection of gorgeous, elegant cards can be customized by pattern and color. Fine Stationery is an online retailer.
Simply to Impress offers hundreds of options for customizable holiday cards. Among their many other features, they offer the ability to add photos and text to the insides and backs of cards, plus they have four envelope styles and return addressing. They ship their orders inside stunning gift boxes.