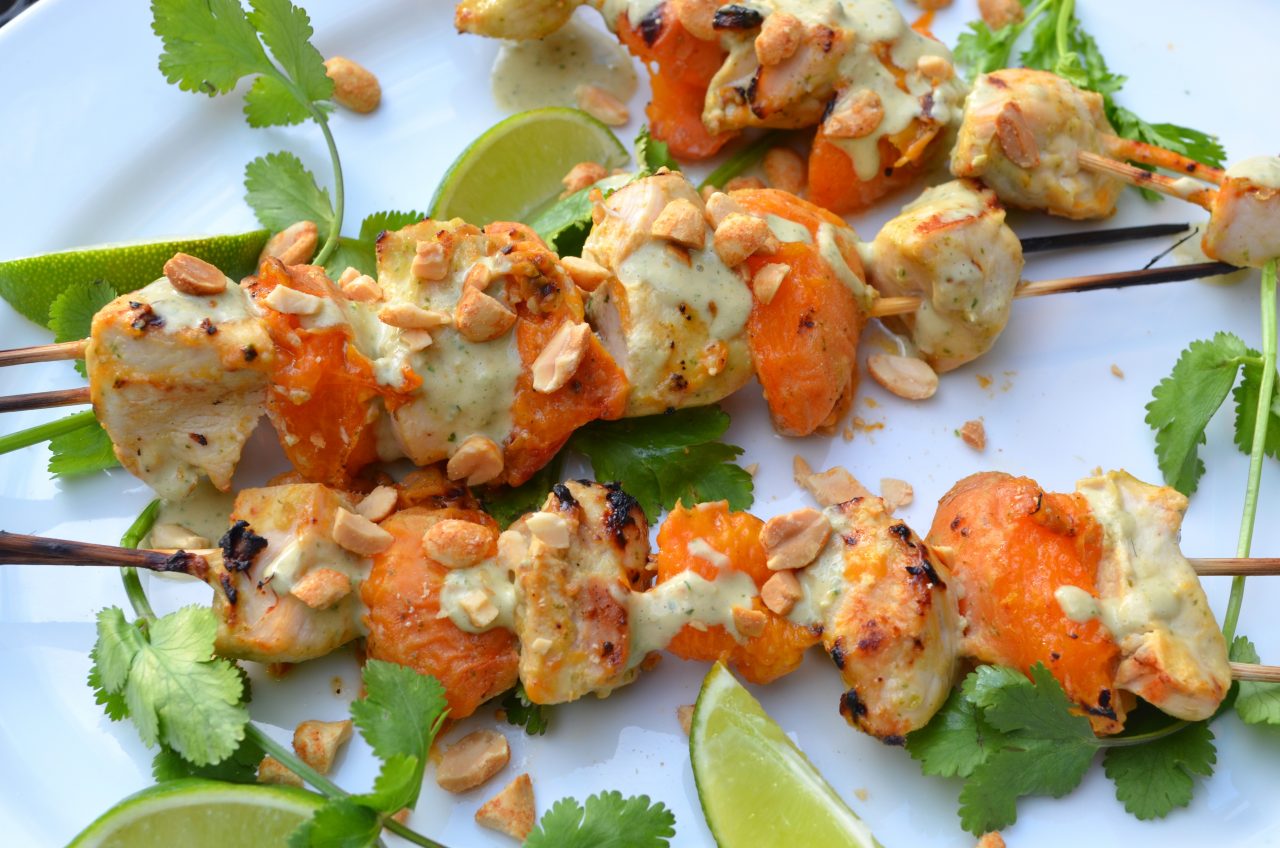 prepared by and photo by Emily S. Downs

Thai inspired chicken kabobs.  Creamy peanut buttery coconut marinaded chicken paired with sweet ripe apricots grilled to perfection, provides your taste buds with an explosive sensory experience you will not soon forget. Just one bite gets you hooked.

Size:

6 servings



Ingredients:
3/4 cup canned light unsweetened coconut milk (or regular unsweetened coconut milk)
1/2 cup plain Greek yogurt
1/2 cup smooth peanut butter
1/4 cup fresh lime juice (about 2 limes)
2 tsp (packed) light brown sugar
2 garlic cloves
3/4 tsp Kosher salt plus more for seasoning
1/4 cup (loosely packed) cilantro leaves plus sprigs for garnish
2 tbsp coarsely chopped jalapeno (about 1 large; w/seeds for more heat)
1 lb. skinless, boneless chicken thighs or breasts, cut into twenty-four 1" chunks
12 firm ripe small apricots, halved, pitted (important that firm)
Freshly ground black pepper
1/4 cup unsalted, dry-roasted peanuts, coarsely chopped
Lime wedges
Twenty-four 6" bamboo skewers (soak in water for 1 hour before using)



Directions:




Puree first 6 ingredients and 3/4 teaspoon salt in blender until smooth. Add 1/4 cup cilantro leaves and jalapeno and blend briefly to combine. Transfer 1/2 cup marinade to a small bowl; cover and chill for serving (return to room temperature before using). Place remaining marinade in a resealable plastic bag; add chicken, seal bag, and turn to coat. Chill for at least 3 hours or overnight (the longer it marinates, the more flavorful it will be).

Build a medium-hot fire in a charcoal grill, or heat a gas grill to high. Holding 2 skewers parallel to each other and 1/2″ apart, thread 1 piece of chicken onto skewers, then 1 apricot half. Repeat with 1 more chicken piece and 1 more apricot half (using 2 skewers helps hold the meat and fruit together, preventing them from twirling around when skewers are turned on the grill). Repeat with remaining skewers, chicken, and apricots for a total of 12, each holding 2 pieces of chicken and 2 apricot halves. Season with salt and pepper. Brush apricots with some marinade from bag; discard remaining marinade.

Oil up grill or use cooking spray… helps to keep chicken from sticking. Grill skewers on one side until chicken is well browned, 3-4 minutes. Turn and grill until other side is well browned, 3-4 minutes longer. Move to a cooler part of grill. Cover grill and cook until chicken is cooked through, about 2 minutes longer. Transfer to a serving platter; sprinkle with cilantro sprigs and peanuts and drizzle with reserved marinade. Serve with lime wedges alongside for squeezing over.