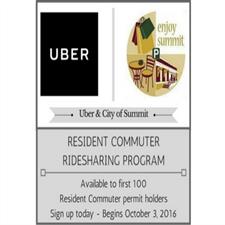 Uber Ridesharing Program for Resident Commuters!  
This pilot runs from October 3, 2016 through March 31, 2017 with door-to-door service to the Summit train station in an UberX vehicle for the same cost of daily parking fee*.
Registration will initially be limited to 100 resident commuters, though the program may be expanded if it's proven successful. Each participant is eligible for one trip from within Summit to the train station and one trip from the train station to another location in Summit per day. Trips must be completed Monday through Friday between the hours of 5:00AM and 9:00PM. All applicants must live within Summit.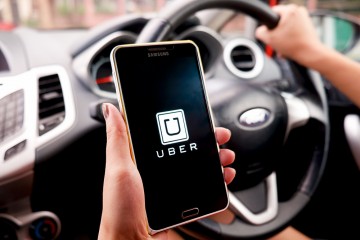 The city will review all applications and then confirm acceptance into the program. If more than 100 residents request to participate, a wait list will be established.
To apply for the program, fill out the registration form on the City's website by going to cityofsummit.org. Your email address must match the one on your Uber account.
Questions or comments? Email parking@cityofsummit.org or call 908.522.5100.
The Uber pickup and drop-off location will be on Railroad Avenue, on the right-hand side of the Summit Post Office, 61 Maple Street.
*If you prepaid for your parking in Summit and are selected for the program, you will not be charged for the Uber rides; simply request a vehicle through the Uber app with the special promo code assigned to you, and enjoy the ride. Payment for all prepaid passes must be submitted by the first of the month to the City of Summit. If you pay for parking by the day, you will be charged $2 per ride through your Uber account.