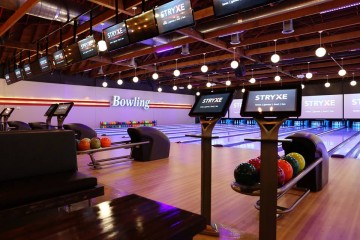 Had fun last Friday checking out the recently opened Stryxe entertainment venue, formerly Plaza Lanes, located in the Madison Plaza, 300 Main Street, Madison.
Growing up, my Dad bowled with a league for several years at the original Plaza Lanes. I myself had done some recreational and league bowling there as well; therefore, I was anxious to see the transformation.
Although the lanes themselves are still located in the same place, Stryxe bears little resemblance to the former lanes.   And I found that truly refreshing!
The new décor had a comfortable contemporary flair. There were 2 lounge/seating areas with fireplaces, giving it a cozy feel. Individual plastic chairs on the lanes are gone, replaced with new padded bench style seating.
There were 2 full bars – 1 located near the rear entrance; the other, a larger bar overlooking the lanes, had a dining area, pool table, and shuffleboard. Both offered craft cocktails and beers. There are flat screen TV's everywhere you turn, and everything is state of the art. The music and sound quality proved it.
The dining menu offers a variety of comfort food with something for everyone. They also have a pizza bar serving "La Tabisca" Sicilian-style pizza prepared in a wood-fired oven. I was told that the dough and sauces are prepared daily, and it smelled amazing.
The arcade, located on the front end, had several games including a version of Skeeball, my personal favorite!   There was Extreme Hoops, Sink-It, Connect 4, Gold Fishin', Down the Clown, and Grand Piano, air hockey, and more. There were also old school crane-game machines. That brought back some memories! Cost on most were $1-$2 per game. A kiosk in the Arcade is available for game card purchase, and kids may exchange winning tickets for a variety of prizes. Kiosk credits can be applied to anything throughout Stryxe.
Stryxe offers a 20% discount on bowling for seniors on Tuesdays from 11am to 4pm.
I am planning to return on Friday, April 1 with a group of girlfriends to celebrate my birthday. Time to dig out my bowling ball!  I will follow up with an update on food, service, etc.   We are all looking forward to it.
Stryxe Entertainment Center
Madison Plaza, 300 Main Street, Madison
Mon-Thu: 11:00 am – 1:00 am
Fri-Sat: 11:00 am – 2:00 am
Sun: 11:00 am – 11:00 pm
973-377-8918
info@stryxe.com