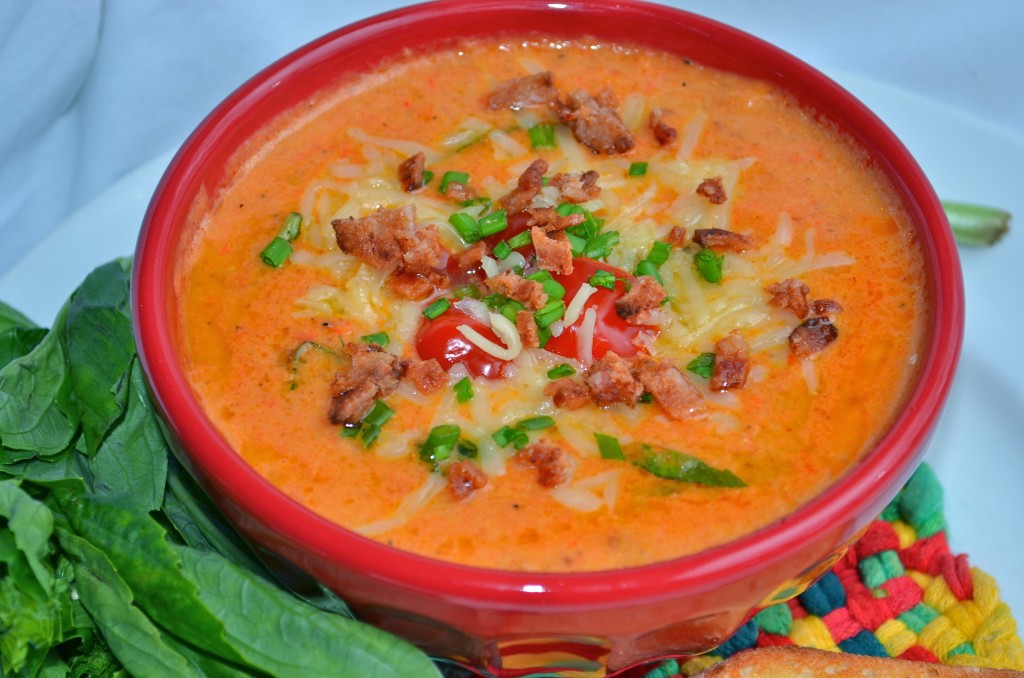 prepared by and photo by Emily Doscher

Creamy, smokey and fresh.  Serve this scrumptious soup with toasted baguette slices.  One super supper.

Size:

serves 6



Ingredients:
1 12 oz package applewood-smoked bacon (about 10 slices), chopped
1 large onion, chopped
1 large red bell pepper, chopped
4 garlic cloves, chopped
2 lbs ripe red tomatoes (about 4 large), cored, quartered
1 cup whipping cream
1/2 cup (or more) water
3 tbsp extra-virgin olive oil
3 tbsp thinly sliced fresh basil
12 cherry tomatoes, quartered
1/4 cup grated Gruyere cheese
2 tbsp chopped fresh chives



Directions:




Saute bacon in heavy large pot over medium-high heat until crisp.  Using slotted spoon, transfer half of bacon to paper towels to drain; reserve bacon.  Pour off all but 2 tbsp drippings from pot.  Add onion and bell pepper to drippings and bacon in pot and saute until soft, about 5 minutes.  Add garlic; saute 2 minutes.  Add 2 lbs tomatoes; reduce heat to medium and cook until juices form and tomatoes are tender, stirring occasionally, about 8 minutes.  Add cream and 1/2 cup water.  Reduce heat to low; simmer until tomatoes are very soft, about 10 minutes.

Working in batches, puree soup in blender until smooth.  Add more water by 1/4 cupfuls to thin if desired.  Season soup with salt and pepper.  (Can be made 1 day ahead.  Cool soup slightly.  Refrigerate uncovered until cold, then cover and keep refrigerated.  Refrigerate reserved bacon separately.)

Warm soup over medium heat.  Mix in oil and sliced basil.  Divide soup among 6 bowls.  Garnish with cherry tomatoes, cheese, chives, and reserved bacon.