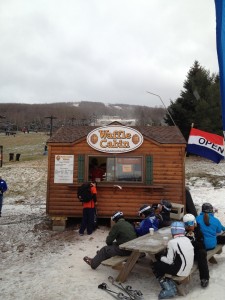 Windham is just over two hours from NYC, close enough for a day trip, or a great weekend away. Experience Windham's expansive runs and touches of luxury and convenience. Here are the details that make you forget you are in NY state and not somewhere out West: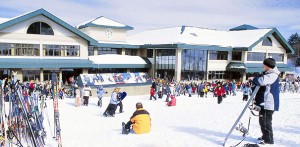 2 Starbucks, 1 Sushi Bar
Valet Parking ($18) VIP Parking ($10)
The Waffle Hut – Located at the D-Lift, lets you grab a sweet treat and not lose a step. Having your gear on makes it that much better.
Wheelhouse Mountain Lodge – A mid mountain eatery on top of the D-Lift, with a smokehouse. Menu items include many BBQ staples like: smoked brisket, pulled chicken and pulled pork. Seating available inside or out on the large deck featuring two grills. On a sunny day, this is where you want to be.
Outdoor Fire Pit – right outside Base Lodge. Great place to meet or wait for your party.
Equipment Valet – At the base of the C lift, will check your belongings for as long as you'd like – an hour, a day, a week or more.
Basket Check – Lighten your load! Safely store clothing and personal belongings in large bins at the base lodge's Windham Mountain Basket Check.