There's no doubt that New York City is kid-friendly. Take advantage of Manhattan's latest exhibits this fall.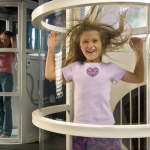 SHIPWRECK! Pirates & Treasure
An exhibit at the Discovery Museum which will capture your imagination and take you on an incredible voyage from the glory days of pirates to modern-day shipwrecks. Journey to bottom of the ocean and beyond to uncover the sea's best-kept secrets and greatest treasures. This exhibit features over 500 authentic artifacts, including millions of dollars worth of gold and silver treasures, as well as the amazing science and technology used to work thousands of feet below the ocean's surface. Get the full shipwreck explorer experience with the hurricane wind tunnel to feel the force of how storm winds would feel on the open sea and even dig for treasure with a real robotic arm. Through Jan. 5 at 226 West 44th Street, Manhattan, 866-987-9692.
The Chocolate Show
The Chocolate Show has a Kids Zone with an area devoted to young chocolate lovers including fun, creative and educational activities with a chocolate touch. It is like a trade show for chocolate, with booths set up with items for sale from restaurants, and stores. There are lots for samples to eat, Friday, November 8 through Sunday, November 10, 2013. Metropolitan Pavilion 125 West 18th Street (between 6th and 7th Avenues).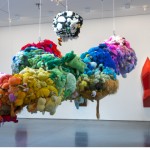 "Mike Kelley" at MoMA PS1
This artsy exhibit features one of MoMA's newest acquisitions: the monumental installation Deodorized Central Mass with Satellites (1991–99).  It's a really bright mass that was made almost entirely of stuffed animals the artist found in rummage sales, which he stitched together over the course of many years to form an enormous, sculpture. It will be suspended with wires and surrounded by all sorts of other colorful hanging objects and wall-mounted pieces, creating a magical environment kids will find cool. On view at MoMA PS1 from October 13 to February 2, 2014.