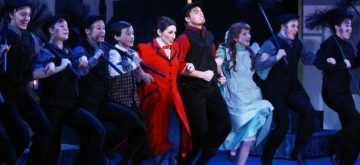 SPARC'ling Evening of Song is an elegant evening of vocal performances from Summit High School Alumni and staff. For the past six years SPARC (Summit Performing Arts Resource Committee) has hosted this evening of musical entertainment that rivals a Broadway Cabaret show.
Former SHS students who are continuing their studies and/or professional careers in music treat the audience to a private evening of song. It's a testament to the Summit Public School district's performing arts programs that these young adults make it a priority to return and perform for us.
The SPARC'ling Evening of Song features both a traditional Silent Auction and a "Reverse Auction," which is a unique live auction where opening bids start high, and then progress backwards in incremental levels. Over the years, donations raised through the Reverse Auction have enabled SPARC to fund microphone purchases at the high school, Musical Rights to productions at both the high school and the middle school, as well as Forensics workshops at the high school.  View all silent auction items (an bid online!) by clicking here.  Tickets are $90 in advance and $100 at the door.  Click here to purchase tickets.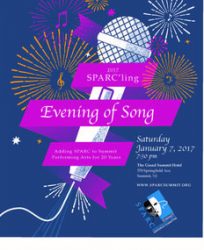 SPARC'ling Evening of Song
Saturday, January 7, 7:30PM – 10:30PM at the Grand Summit Hotel
The evening includes buffet dinner and drinks, auctions and raffles, and performances by Summit Alumni and Staff
The Summit Performing Arts Resource Committee (SPARC) is a non-profit volunteer organization whose mission is to promote the performing arts in Summit Public Schools, recognize student achievements, and enrich programs and productions, through advocacy, financial support, and education initiatives.