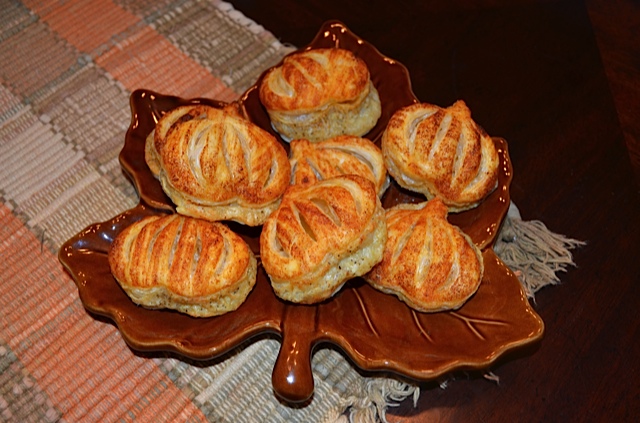 prepared by and photo by Emily Doscher

Not a stitch of pumpkin in these "pumpkins".  Paprika-butter is what gives them their festive flare, but a cheesy mustard filling is what gives them their flavor.  Feel free to go nuts and experiment with other cookie cutter shapes.  Next time, I think I'll try a leaf, or maybe an acorn, or better yet… a squirrel-shaped cookie cutter!

Size:

makes 18-24



Ingredients:
All-purpose flour, for parchment
1 standard package (17.3 oz) frozen puff pastry, thawed
1 1/2 tsp paprika
1/4 cup unsalted butter, melted
2 1/2 tbsp Dijon mustard
1 1/2 cups finely grated Gruyere cheese
1 cup finely grated Parmesan cheese
Freshly ground pepper
Pumpkin-shaped cookie cutter



Directions:




Preheat oven to 375F.  Generously flour two pieces of parchment paper (each piece about 16 x 14″); on each piece of parchment, roll out an unfolded pastry sheet to form a 15 x 13″ rectangle, about 1/16″ thick.  Refrigerate until firm, on parchment (on cookie sheets if necessary to remain flat), about 15 minutes.  Meanwhile, stir the paprika into the melted butter.

Remove pastry from the refrigerator, and brush off excess flour.  Spread a rectangle of pastry with mustard; sprinkle with both cheeses.  Season with pepper.  Lay second pastry rectangle on top.

Place a sheet of parchment on top of the stacked pastry; using a rolling pin, roll until smooth and pastry layers are sealed together.  Remove parchment, and brush top of pastry with butter mixture.  Chill until firm, about 30 minutes.

With a pumpkin-shaped cookie cutter, cut out 18-24 shapes.  Immediately place the shapes on a parchment-lined baking sheet.  Using a sharp paring knife, score each shape four or five times to make pumpkin ridges.  Bake until golden, 15-20 minutes.* Transfer puffs to a wire rack; let cool slightly before serving.

* I also bake the scraps… waste not, want not.