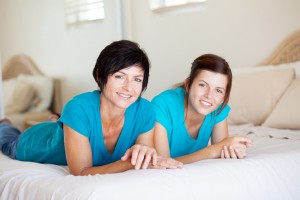 Valley's Spirit of Women program invites moms and daughters to attend together a free, fun and educational evening at Ethos in Midland Park.  The event will be held on April 25 and May 23 to accommodate girls of different ages. Dress to work out.
Here's the schedule for both evenings:
 5:45 – 6:30 p.m.         Relax and enjoy
Spa demos        Make-up application tips              Skin-care instruction
Door prizes        Fun merchandise for sale             Light refreshments
6:30 – 7:30 p.m.         Presentations and Q&A by Valley Hospital physicians
7:30 – 8:00 p.m.         Wrap up your evening with exercise and the awarding of door prizes. 
Thursday, April 25     Moms & Daughters ages 9 to 12*
Presented by Monica Meyer, M.D., OB/GYN
Female anatomy and puberty
Self image: Accepting your beautiful self
Appropriate versus inappropriate touch
Thursday, May 23     Moms & Daughters ages 13 to 16*
Presented by Kim Fallon, M.D., OB/GYN
Sexual Health: A review of anatomy and physiology, sexually transmitted diseases, birth control and pregnancy
Self image: Accepting your beautiful self
Appropriate versus inappropriate touch
Limited seating.  Registration required. Please call 201-291-6118, or e-mail SpiritofWomen@ValleyHealth.com Ethos Fitness Spa is located at:  85 Godwin Ave., Midland Park, NJ