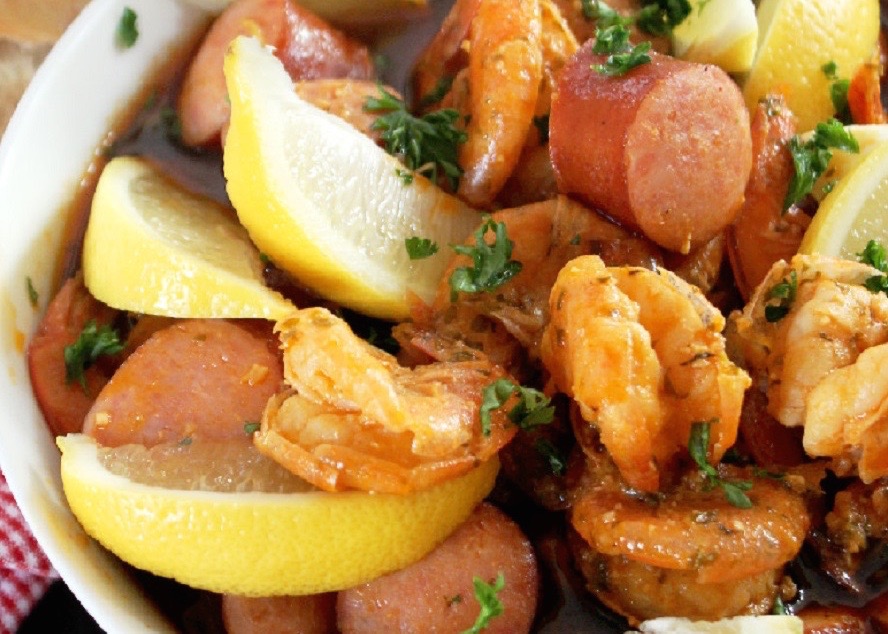 photo creds: creolecontessa.com

Found this hearty, spicy Louisiana dish on creolecontessa.com's site. Relatively simple to put-together and super easy to eat! Add potatoes and corn on the cob for an even more complete meal. Not into real spicy? No worries. Just adjust the garlic, garlic powder, hot sauce and Asian chili sauce amounts. The Asian chili sauce can be found in the International section of your supermarket.

Size:

serves 4



Ingredients:
2 lbs jumbo shrimp, deveined (the bigger, the better)
1 lb smoked sausage, sliced
3 lemons
1-2 garlic cloves (based on your love of garlic)
1 stick butter, melted
1 cup extra virgin olive oil
1/2 cup hot sauce
1/4 cup Asian chili sauce
1/4 cup parsley, chopped
2 tbsp Worcestershire sauce
1/2 tbsp creole seasoning
1/4-1/2 tbsp garlic powder
1/2 tbsp oregano, crushed
1/2 tbsp paprika
12 tbsp black pepper
**6 baby red-skinned potatoes & 6 corn-on-the-cob cut in 1/2 (optional... see added note below)



Directions:




Preheat oven to 400F.

Devein shrimp, (do not peel.)

Place shrimp and sausage in a greased casserole dish. Top with melted butter.

Juice 1 1/2 lemon and place into a blender, add remaining ingredients and spices, blend well.

Pour hot sauce liquid over shrimp, mix well and bake at 400F for about 25 minutes

Remove from oven, garnish with sliced lemon wedges and serve with crusty bread.

** Slice potatoes in half and boil for about 10 minutes before adding to the shrimp mixture. Add corn the last 5 minutes of boiling time to the potatoes. Add both ingredients to the shrimp mixture. If decide to add potatoes and corn, double the sauce recipe.
---
And for Dessert? Mardi Gras Mini-King Cupcakes.