Help Madison Mud Reach Their Goal 
Friday Sept 16 •  Saturday, Sept 17 • Sunday, Sept 18.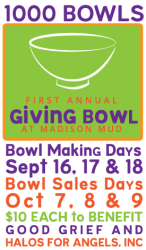 Do you have an hour to spare this coming weekend? Grab some clay and be part of 1st Annual Giving Bowl at Madison Mud. Their goal is to make 1000 handmade giving bowls for an October fundraiser sale that will benefit two New Jersey based organizations: Good Grief and Halos for Angels.
You can sign up for free 1 hour increments (or more!) on In addition to materials, Madison Mud will also provide snacks and beverages! Each participant will create a pinch pot Giving Bowl.  These bowls will then be sold at a cost of $10 each at the October sale, taking place at Madison Mud on October 7, 8, and 9.
I've signed up for a Friday time slot; hope to see you there!
Check our Facebook later this week for shared "Giving Bowl" photos.