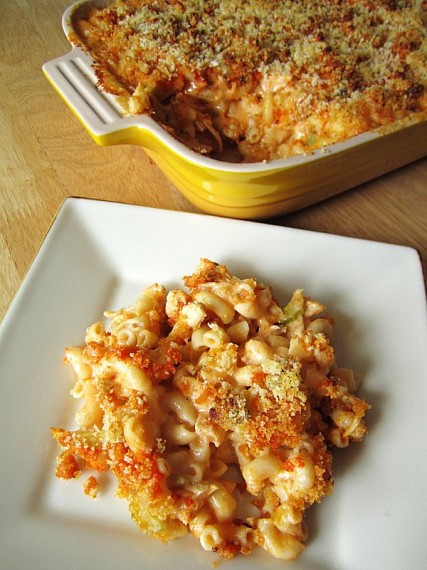 photo creds: mission-food.com

Wowie!!  If you love mac-n-cheese as well as, buffalo chicken… this is the dish for YOU! Ultimate in comfort food but ideal for a Super Bowl get-together. It's the one day everyone in America goes nuts! So dig in!
(please give yourself about 1 1/2 hours to make this and be sure to serve your favorite brew alongside.)

Size:

12 servings



Ingredients:
CHICKEN:
2 1/4 cups all purpose flour
1 1/2 tbsp cayenne pepper
1 1/2 tbsp paprika
1 1/2 tbsp salt
1 1/2 tbsp ground cumin
1 1/2 tbsp ground coriander
2 cups whole milk
3 large eggs, beaten to blend
4 cups cornflakes, ground to crumbs in processor
1 lb chicken cutlets, cut crosswise into 1" wide strips
Canola oil (for deep frying)
MACARONI:
1 lb small elbow macaroni
2 cups chopped green onions (about 8 large)
2 tbsp chopped fresh oregano
8 tbsp (1 stick) butter, divided
3 cups chopped onions
2 large garlic cloves, chopped
1/2 cup all purpose flour
4 cups whole milk
1 lb extra-sharp cheddar cheese, coarsely grated (about 4 cups packed)
8 oz provolone cheese, coarsely grated (about 2 cups packed)
2 tsp paprika
1 tsp salt
1 tsp freshly ground black pepper
1 cup hot pepper sauce (preferably Frank's RedHot Original)



Directions:




CHICKEN: Whisk first 6 ingredients in deep medium bowl to blend. Place milk in second bowl, eggs in third bowl, and ground cornflakes in fourth bowl. Working with 4 chicken strips at a time, place in flour mixture and toss to coat. Dip same chicken strips into milk, then eggs, then cornflake crumbs, coating with each, arrange on sheet of foil.

Pour oil into heavy medium saucepan to depth of 2″. Attach deep-fry thermometer to side of pan; heat oil to 335-350F. Working in batches, add coated chicken strips to hot oil and fry until golden and cooked through, turning occasionally, about 3 minutes. Using slotted spoon, transfer chicken strips to paper towels to drain. Cut strips into 1″ long pieces.

MACARONI: Cook macaroni in large pot of boiling salted water until just tender but still firm to bite. Drain; transfer to very large bowl. Mix in green onions and oregano.

Melt 6 tablespoons butter in same large pot over medium heat. Add 3 cups chopped onions and garlic. Cover; sauté until onions are soft but not brown, stirring often, about 6 minutes. Add flour; stir 2 minutes. Gradually whisk in milk. Bring to boil, whisking constantly. Reduce heat and simmer sauce 2 minutes. Add all cheeses, paprika, 1 teaspoon salt, and 1 teaspoon pepper. Whisk until cheeses melt and sauce is smooth, about 2 minutes. Remove from heat. Season to taste with more salt and pepper, if desired. Mix cheese sauce into macaroni. Mound mixture in 13x9x2″ glass baking dish. Place chicken pieces along top so they are imprinted into mac-and-cheese.
* Can be prepared 2 hours ahead. Let stand at room temperature.

Preheat oven to 350F. Stir hot pepper sauce and remaining 2 tablespoons butter in small saucepan over medium heat until butter melts; spoon 4 tablespoons over macaroni/chicken in dish. Bake macaroni uncovered until heated through, about 30 minutes, or 45 minutes if made ahead. Serve, passing remaining butter and hot-sauce mixture separately.