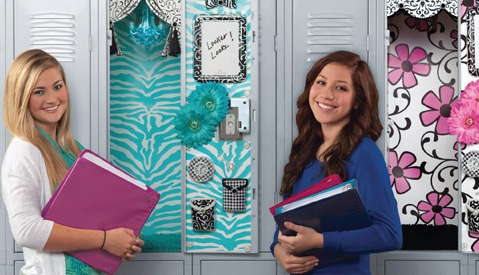 Having a locker is like having a clean slate- ready for your input. It gives you the freedom to express yourself to everyone that walks past. There are multiple ways for you to express yourself through your locker with school locker ideas. Whatever you are interested in- you can elaborate on, creating a fun place for you to stop and switch books. Most school lockers are magnetic (meaning you can add some magnets for decoration). You can add a plethora of magnetic accessories that aid you in staying organized as well as add some style. You can also visit your local Container Store for some of these items.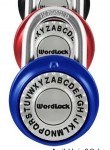 LOCKER LOCK
WordLock – what good is a lock if you can't remember the combination? WordLock is the new style of friendly, easy-to-use padlocks for perfect for school lockers or the gym. Remember your locker combination. Was it 12-37-20? Or was it 21-37-2? With WordLock's new text lock, you surely won't forget all the times you L-O-Led during drama class or how you became B-F-Fs with Jake.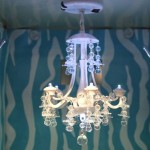 LOCKER CHANDELIER
How about a little extra bling? Check out this Magnetic Locker Chandelier with LED lights! It's battery operated (batteries included) and flashes in seven bright colors. Or go Bohemian with with a beaded Locker Rocker.
LOCKER RUG
LockerLookz makes these fabulous locker rugs, available in 5 super shaggy bright colors. They are non-skid so they won't slip and slide around your locker.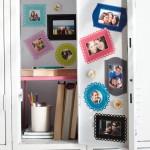 LOCKER DECALS AND WALL PAPER
Picture perfect, these vintage-inspired frame decals add color and style to the inside of your locker. Transform your locker from basic to beautiful with wallpaper designs that make it easy for you to have an amazing locker in no time. No adhesives necessary. They're held up by super strong magnets and fit most standard size lockers. The custom perforations fit around hooks and locking mechanisms. They're extremely durable & tear-resistant. Add a Magnetic Word Art Set so you and your friends can create your favorite sayings on a daily basis.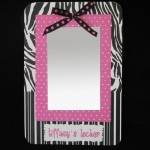 LOCKER MIRROR 
Having a shatterproof mirror in your locker gives you a place to quickly spruce yourself up before your next class. Have one personalized on Etsy for $11, or Do It Yourself. Turn a plain mirror from the craft store into a customized accessory by affixing three strips of magnetic tape adhesive to the back. Provide craft supplies such as paint pens, self-adhesive foam shapes, plastic gems, beads and glitter glue to write names, school spirit slogans and creative doodles on the frame or around the edge of the mirror itself. Here is a tutorial from crafttestdummies.com.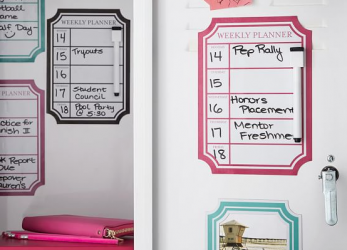 LOCKER DRY ERASE BOARD
Metal lockers are screaming for magnetic message boards. Dry Erase boards are a great product …use it as a fun message board for friends. Get a personalized one from Etsy. Or try the PBTeen dry-erase board which includes a pocket below for stashing supplies, and comes in various colors and patterns. PBTeen also makes magnet-backed, dry-erase weekly calendars to help keep you on schedule.
LOCKER ORGANIZERS

In addition to creative décor, turn your locker into a practical space with locker shelves or locker ladders. A locker organizer like the Gear Up Pocket from Pottery Barn Teen has a magnetic backing and can hold pens and pencils or even brushes and lip gloss. Most lockers have ample height, so a locker shelf can easily double or triple your storage space. This Janus Locker Shelf  from the Container Store is extra sturdy and each shelf can hold up to 15 pounds. Two adjustable shelves provide great storage for all your books and school supplies. A Locker Ladder contains hanging locker shelves that hold books notebooks school supplies. There are some local elementary schools that are selling these locker ladders to graduating fifth graders. It is a fundraiser and will actually save you the shipping cost. You can help your school and your child at the same time. I will tell you as a middle school parent, every child with a locker, needs one of these.