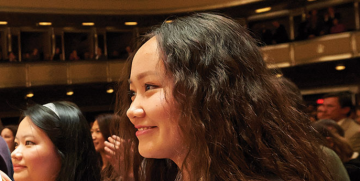 Did you know that students can become members of the
Cleveland Orchestra's
Student Advantage Program for free? With your membership, you can purchase tickets for a substantial discount: only $15 per ticket.  
Membership
is free for full-time high school (grades 9-12), and full-time college undergraduate, graduate/post-graduate students (a valid student ID is required). Student Advantage members also receive
exclusive invitations
to masterclasses and behind-the-scenes open rehearsals … Free!

Also, keep this in your back pocket:
 The
"Under 18s Free"
at
Blossom
 and at
Severance Hall. 
It started in 2011to encourage families to attend Cleveland Orchestra concerts together.  I
How It Works
At Blossom,
this program offers free "Under 18s Free" Lawn Passes (two per regular-priced adult paid admission) to young people to any Blossom Music Festival concert each summer.  These tickets can be ordered online (once individual tickets for each Blossom season go on sale) or through the Ticket Office.
At Severance Hall, the program offers free tickets (one per regular-priced adult paid admission) to young people ages 7-17 to the Orchestra'sFridays@7, Friday Morning at 11, and Sunday Afternoon at 3 concerts, as well as Cleveland Orchestra Youth Orchestra concerts, Family Concerts, and PNC Musical Rainbows (ages 3-6).  The free tickets for Severance Hall concerts eligible for can be purchased in person or online thru this website.
Click for more info or to purchase tickets.
The Cleveland Orchestra, 11001 Euclid Avenue , Cleveland, Ohio 44106