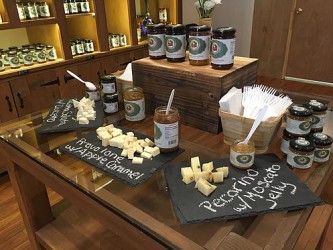 HEALTHY ITALIA "LA BUONA CUCINA"
Because I love Italian food so much I was anxious to visit downtown Madison's newest specialty store, "Healthy Italia, La Buona Cucina". Doesn't the name roll right off your tongue? The meaning behind it was explained to me:  Healthy Italia represents the concept that Italian food IS healthy when prepared with the right ingredients, like the ingredients sold in the store.  And La Buona Cucina translates as The Good Cuisine; therefore, tying it all together.
Upon entering this charming shop I received a warm welcome from Cara DiFalco, Cooking School Manager, who was not only friendly but knowledgeable, and more than happy to answer any questions that I had. Within a few moments, she spouted off recipe ideas and product information, plus highlights about the adjoining school. Some of you may even recognize Cara as a former morning traffic reporter on News 12 New Jersey!
Healthy Italia's three owners, Paulo, Roberto, and Cristina are Italian natives with a passion for the food and culture of their country. I had the pleasure of meeting two of them yesterday. I was also introduced to Lisa Sanderson, the Marketing Director, who will keep us abreast of upcoming schedules and events.
The market's rustic custom wood shelves are filled with hand-selected products imported from small regions throughout Italy, made with healthy ingredients and loaded with genuine Italian authenticity. As you peruse, you will quickly see that these are not ordinary products you can find in a local market or retail store.  In addition, organic and gluten free versions are available.
There were a variety of sauces ranging from tomato based to pestos. The adjoining shelves were filled with jams, jellies, and preserves. I now regret not buying the fig preserves, because I am obsessed with figs. Note to self, must go back and purchase!
The large jars of whole peaches in syrup also looked delicious. Cara mentioned that a patron purchased them for use in a peach cobbler recipe.  That sounded so delicious!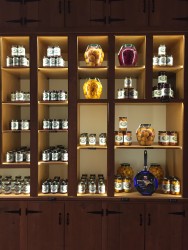 There are olive oils, truffle oils, vinegars, condiments, dried pastas, and cheeses. And let us not forget the fresh Sorrento's Italian bread that is delivered to the store daily.
Healthy Italia encourages patrons to sample their cheeses, jams, oils and bread in order to discover your favorite taste combinations. An espresso machine is soon to be added. They know how to keep us happy!
Connected to the market, the cooking school is set to open in May 2016.  Hands-on cooking classes, demonstration cooking, wine tastings, wine and food pairings, private parties, and specialty classes for kids and adults will be among the many options. Class schedules are being finalized, and Lisa will share schedule information once completed.
Also, starting on April 25, eight week beginner Italian language sessions will be taught by Laura Orlando. Discounted inaugural class rates for adults: $180 and kids: $120.
When you stop in ask about the 20% first purchase discount coupon and the "bring a friend for free" offer when signing up for your first cooking school class.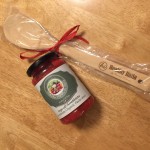 I happily left with 2 jars of Sugo all'Arrabiata organic pasta sauce and a complimentary customer appreciation gift – a new wooden spoon I will use when stirring my sauce!
I will share a review upon tasting. Cannot wait to try one of their classes!
Buon Appetit!
Healthy Italia is located in downtown Madison, NJ at 55 Main Street
Visit www.healthy-italia.com for additional information