Written by: Helen Dolan, Tips Contributor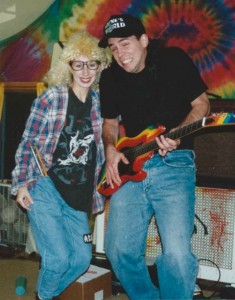 When I was a student, back to school shopping always coincided with my search for the perfect Halloween costume. Before my husband and I were married, I took pride in winning "best costume" at local parties. When the kids were little — and malleable — I would coordinate our costumes to theirs. Now, sometimes it seems all I can manage is to rummage through my closet hours before go time!
Although dressing up for Halloween is great fun, it does take planning and can be time-consuming. However, some great costumes are already hiding in your closet waiting for their debut!
White coat, black dress and red gloves? Cruella DeVille lurks.  Add a stuffed Dalmatian and pick up her signature black and white wig at any Halloween Shop.
A black dress, or better yet a graduation gown, a pointy hat and green make up is all you need for a great witch's costume. Add your black pointy shoes/boots, which are a must for this fall anyway, and you'll be conjuring spells with the best of them.
Check out these websites for some great ideas that require minimal effort and expense.
www.ecouterre.com
www.mom.me
I am loving the idea of the Morton's Salt Girl hanging out with the Brawny Towel guy?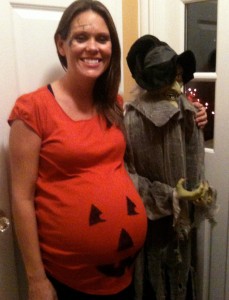 When Karen was pregnant with her twins, she grabbed an orange t-shirt and a sharpie and plopped herself on her front porch all day. Her bigger kids felt she was part of the fun, and she didn't have to move at all.
Here is Emily, our food editor, as the Mad Hatter.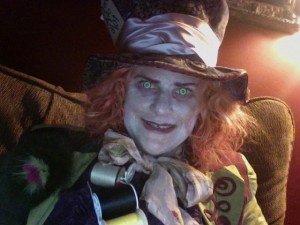 Pick up a pair of colored contact lenses and you will be all set.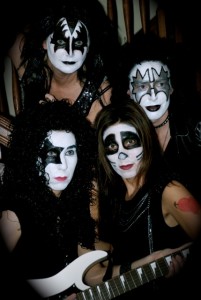 A few years ago a group of us got together for a Halloween party and pulled most of our outfits from the closet. The rest was cleverly applied make-up. We accessorized from affordable stores such as H&M and Forever 21. Gene Simmons is Amy, our finds editor. What do you think?
Dressing up just might remind you of how much fun there is to be had on Halloween.