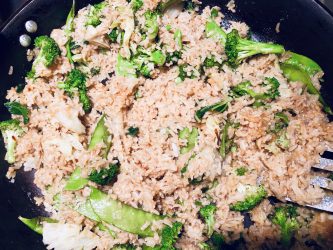 This was a great way to start off the week. You can make it over soba noodles or brown rice. I did both because I had the noodles, but everyone preferred the rice. Plus, I made 5 cups of rice so there was more than enough for another meal a few days later.
Ingredients:
2-3 cups brown basmati rice
2 heads broccoli chopped or one pre-cut bag
1 package of snow peas
2 heads of bok choy chopped into bite sized pieces
1 bunch of green onions
5 cloves of garlic chopped (or 5 Dorot cubes)
1-2 tablespoons finely minced ginger (or 3-6 Dorot cubes)
1 tbsp natural honey
1/2 cup low sodium soy sauce
olive oil
– Make rice according to directions. (Double amount if you plan on having rice later in the week.)
– In a deep pan, sauce green onions, garlic and ginger in 2 tbsp olive oil for about 3 minutes.
– Add water to about 1/2 inch depth, and then add washed broccoli, snow peas and bok choy. Allow to steam for 5 minutes and lower heat to simmer until rice is almost done.
– Mix honey and soy sauce (if you like more sauce like we do, use 2 tbsp honey and one cup soy sauce) and add to vegetables.
– Serve over cooked rice or mix rice and veggies together. More soy sauce to taste. Can add crushed red pepper flakes if your family prefers a little more spice.