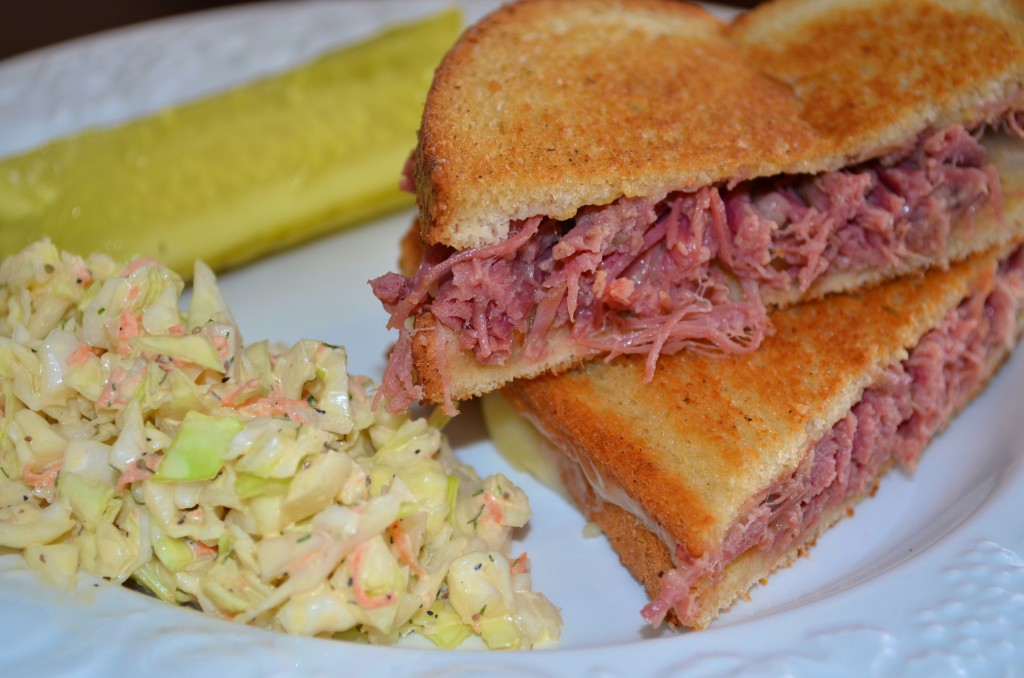 prepared by and photo by Emily S. Downs

Delicious, heavenly, and gooey way to use up your leftover St. Patty's Day corned beef.  If preferred, caramelize the onions before placing on sandwich (I do).

Size:

4 servings



Ingredients:
8 slices Jewish-style rye bread, divided
Dijon mustard
1 lb thinly sliced corned beef (or left-over from Good Ole' Fashioned Corned Beef & Cabbage)
8 ozs thinly sliced Fontina cheese
1/2 sweet onion (such as Maui or Vidalia), thinly sliced
4 tbsp (1/2 stick) butter, divided



Directions:




Place 4 bread slices on work surface.  Spread mustard on 1 side of each.  Divide corned beef among bread slices.  Top with cheese and onion (if desired, cook onions in tbsp of olive oil until caramelized).  Cover with remaining 4 bread slices, pressing slightly to adhere.

Melt 2 tbsp butter in each of 2 large nonstick skillets over medium heat.  Place 2 sandwiches in each skillet and cook until golden brown on bottom, pressing occasionally with spatula, about 3 minutes.  Turn sandwiches over and cook until golden on bottom and cheese melts, about 3 minutes.  Transfer sandwiches to plates, cut in half, and serve.