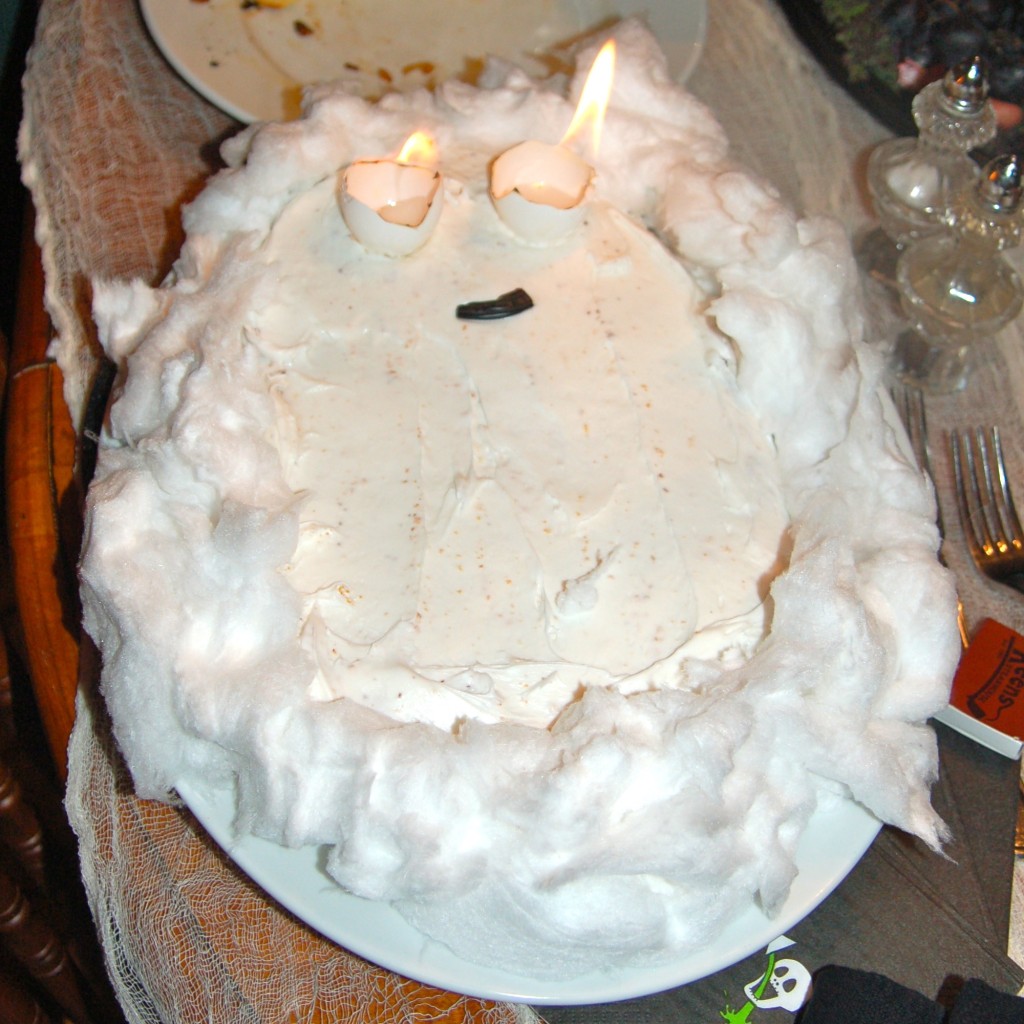 prepared by and photo by Emily S. Downs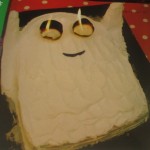 I first saw this cake in Amy Sedaris's book, I Like You: Hospitality Under the Influence, but apparently it's originally from, Betty Crocker's Cookbook for Boys & Girls (1975). I made it for a neighborhood Halloween party and both kids and adults ooh'd and ahh'd over the festive sweet. I mean come on… a cake with flaming eyeballs? Need I say more? *photo: from Amy Sedaris's book

On my particular cake I used white cotton candy to outline the body of the ghoul. It gave it more of a ghastly, ghostly touch.

Size:

makes one sheet cake size



Ingredients:
CAKE:
1 (18.25-ounce) box of your favorite yellow or white cake mix
One batch of white icing (homemade or pre-made)... enough for a sheet cake
FLAMING EYBALLS:
2 eggs
2 sugar cubes
Lemon extract
White cotton candy
Black string licorice cut into two small pieces



Directions:




CAKE: make cake according to box directions for a sheet cake. When finished baking cool cake completely. After completely cooled, cut side off into ghost shape and use sides as arms and/or use for something else (as in an immediate treat for yourself for creating this masterpiece. I won't tell anyone…). I did not make arms for my cake, if you get my drift.

ICING: Icing the top and side of the ghost cake.

EYEBALLS: Crack eggs in half and discard top part of shell, white, and yolk (or use for the cake). Clean the two bottom shells well, removing the skin that lines them; this will allow for longer burning. Soak sugar cubes in the lemon extract, place one cube in each shell and pour one capful of extract over the cube. This is a good time to place the small pieces of black string licorice in a mouth shape on cake. Just prior to presenting your ghastly ghoul, ignite and frighten your guests!