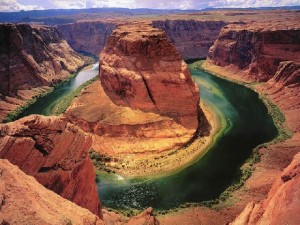 Nearly five million people see Grand Canyon each year. Most of them see it from their car at overlooks along the South Rim (this includes Grand Canyon Village, Hermits Rest, and Desert View). The South Rim is the most accessible part of the park and is open all year.
A much smaller number of people see the Canyon from the North Rim, which lies directly across the Canyon from the South Rim. The North Rim rises a thousand feet higher than the South Rim, and is much less accessible. Heavy snows close the road to the North Rim from late October to mid May of each year. Even in good weather it's harder to get to.
The inner canyon includes everything below the rim and is seen mainly by hikers, mule riders, or river runners. There are many opportunities here for adventurous and hardy persons who want to backpack, ride a mule to Phantom Ranch, or take a river trip through the Canyon on the Colorado River. Expect heavy crowds during spring, summer, and fall months. You will find fewer crowds in the early spring or late fall.
Helicopter Tours: Want to stay in Las Vegas, and just pop into the Canyon? Try operators like Papillon Tours for a one day visit.
Hike: Guided hikes are offered by the National Park Service. There are also outfitters like Just Roughin It which can set up an all-inclusive trip for you.
Mule Trips: Overnight Rides stay the night at Phantom Ranch, at the bottom of the Canyon near the Colorado River. This service must be reserved and purchased in advance. South Rim Mule trips may be booked 13 months in advance and fill up early.
Rafting/Camping: Here is a list of rafting companies that offer river trips from 1 to 25 days long. Things to consider when picking a trip; minimum age, fly in/fly out or hike in/hike out. Motorized or oar powered boats. Number of nights camping. We already booked our 5 day O.A.R.S. trip for August.
See all the Canyons and Sedona: Tauck Canyon County Family Adventure, an 8 day adventure through the southwest. Tour highlights include visits to 3 national parks; Zion, Bryce, and Grand Canyon. See the sun rise over the Grand Canyon with a stay at an inside-the-park lodge right on the rim… discover classic Western towns like red-rock Sedona, Arizona and Kanab, Utah ("Little Hollywood")… float along the Colorado River on a raft… flightsee over Rainbow Bridge… explore the Lake Powell area on an off-road slot canyon adventure or on a boat cruise See Tauck Bridges Tours.
RV Trip: Cruise America (tel. 800/327-7799) rents RVs nationwide and has offices in Phoenix, Flagstaff, and Las Vegas. Daily rates range from $100 to $150 (depending on season). Thirty-foot motor homes go for $15 to $20 more per night. There is a 3-day rental minimum. When making reservations at a campground, make sure that your RV meets its regulations; some sites don't allow larger RVs. Go-Arizona has a list of RV campgrounds, or try one of the NPS RV sites.
Take a train: Drive along Interstate 40 to Williams, Ariz., spend a night in the Grand Canyon Railway Hotel, leave the car there and then take the Grand Canyon Railway (www.thetrain.com) to the canyon in the morning. The train leaves Williams once a day at 9:30 a.m.; the return train leaves at 3:30 p.m. daily. If that schedule doesn't work for you, you can hire a taxi for the return trip, at around $120. A round-trip ticket on the train begins at $70 for an adult, $40 for a child.
The National Park Service's Web site (www.nps.gov/grca) is very helpful in planning a visit.
LODGING 
El Tovar (888-297-2757; www.grandcanyonlodges.com), designed by Charles F. Whittlesey, is the most atmospheric hotel around. Built right on the rim out of timber and stone and open since 1905, it shouldn't be missed, provided the budget can stretch to it. A standard double room is currently $174.
Phantom Ranch (888-297-2757; www.grandcanyonlodges.com) is a magical collection of stone cabins and lodges built in the bottom of the canyon, by Mary Colter. Dorm beds are about $42. is a resort village within Grand Canyon National Park in Arizona. It is located on the north side of the Colorado River near its confluence with Bright Angel Creek and Phantom Creek.
Grand Canyon Railway Hotel (233 North Grand Canyon Boulevard, Williams, Ariz.; 800-843-8724; www.thetrain.com) is not quite the atmospheric old railway edifice, but this is a comfortable, modern hotel. Doubles start at $169.
Bright Angel Lodge (888-297-2757; www.grandcanyonlodges.com) is another old timber warren, built in 1935 and still full of charm. A standard room with bath is $90; a cabin on the canyon rim is $142.
BAR 10 RANCH Located on the north rim of the canyon, the Bar 10 Ranch  has been hosting Grand Canyon visitors for several decades. The perfect beginning and ending point for many river rafting experiences on the Colorado River and an excellent spot for country hospitality and adventure on the north rim of the Grand Canyon. 435/628-4010; $128 per person, including meals and activities.