Feinstein's/54 Below is a venue I've wanted to check out for quite some time and finally did just last week. The club occupies the basement level of the former Studio 54 disco. As soon as you enter, you'll discover that there is not a bad seat in this intimate club, with a combination of booths and tables, and a bar area with additional seating.
The service was great and so was the food. I was able to split a salad and entrée with a friend and feel satisfied. (tip: order the fried plaintains and guacamole as an appetizer!) Ticket prices are reasonable, ranging from $40-$75. We originally purchased "bar seats" at $40 each, and ended up with a complimentary upgrade to one of the comfy booths. *Tables are not pre-assigned, and there is a $25 food and beverage minimum.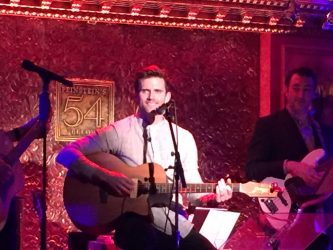 Being fans of the TV show "Nashville", our show was "Songs from Nashville", beautifully executed by several Broadway performers accompanied by equally talented musicians.
Added bonus: we attended the earlier show, and I arrived home by 10:00pm.   That to me was a real plus, especially when attending a midweek show.
The entertainment calendar seems to have something for everyone from headline acts and tribute shows, to group performances. If you love Broadway, this is the place for you. And for less than the cost of a theatre ticket, I think it is a great alternative.
Check out all the pricing, details, and calendar events at their website.
Feinstein's/54 Below
254 West 54th Street (Between Broadway and 8th), New York