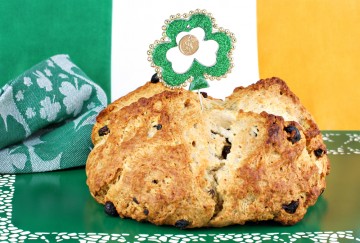 This Italian-American has found a great go-to Irish soda bread recipe that is not only simple but delicious.  I have been using it for the past few years and gotten rave reviews with those I've shared it with.   Come to think of it, I've only shared with family, so hopefully they weren't just being kind!   All kidding aside, I of course have eaten it and know it's good.
It's one of those recipes that while baking fills your home with a rich buttery aroma!  YEAH!!  Of course, it tastes even better when adding more butter to it while enjoying with a good cup of tea.   I only make it once a year, so why not indulge.
The first time I made it I thought I would have trouble finding currants, but I have found them both at Whole Foods and at Kings.  This recipe is for 1 large loaf, but I divide the dough into two in order to get smaller loaves.  And then bake them on the same cookie sheet.
Made two this past weekend, my mother in law loved hers and I loved mine! This week I am baking a few more for friends.  If you try it, I hope you like it.  Let me know!
Ingredients
3-1/4 cups flour
1/3 cup plus 1 Tbsp. sugar, divided
1 tsp. baking powder
1 tsp. baking soda
1 tsp. salt
1/2 cup cold butter, cut up
1-1/3 cups buttermilk
1/2 cup currants
HEAT oven to 350°F.
MIX flour, 1/3 cup sugar, baking powder, baking soda and salt in large bowl. Cut in butter with pastry blender or 2 knives until mixture resembles coarse crumbs. Add buttermilk and currants; stir just until moistened.
PLACE dough on lightly floured surface; knead 10 times. Shape into 2-1/2-inch-thick round. Place on baking sheet sprayed with cooking spray. Cut deep 1/2-inch "X" in top of dough; sprinkle with remaining sugar.
BAKE 1 hour or until golden brown. Remove from baking sheet to wire rack; cool completely before cutting into wedges.