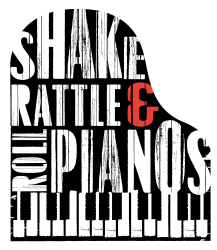 The fundraising campaign for the new and improved Summit Community Center is in full swing!   On Thursday, November 17, Hilltoppers are invited to attend "Dueling Pianos"  –  an adult celebration of music and community. As residents gather to raise money for the expansion and improvements to Summit's Community Center, they will enjoy an evening they won't soon forget.
"Dueling Pianos" originated in the fabled bars of New Orleans in the 1930s, and spread West across the nation. This exciting, high-energy, all-request entertainment experience has even taken over the Las Vegas strip – and now, "Dueling Pianos" is coming to Summit. Imagine the top piano players on the East Coast playing a non-stop, rock-and-roll party where you pick the playlist!
From Billy Joel to Bon Jovi to Britney Spears to Biz Markie, no tune is off-limits. Equal parts concert, comedy and cabaret, you'll laugh along, dance along and sing along!
Most important thing to know, especially if it's your first time at a dueling piano show: bring money. Lots of it! Pledge to hear your favorite song or better yet, pledge not to hear your neighbor's favorite.  The tip jar all goes toward the Community Center Project. You can request any song from college fight songs to the most annoying Broadway tunes.
This fun evening of entertainment kicks off the public portion of the Community Center fundraising campaign. Come out for a night of good food, drink and fun while helping raise funds for this project. The City of Summit has committed $5.7 million dollars to the project, but challenged the residents to raise $1.2 of that total.
The fun starts at 7:00PM with a Premium Open Bar and lots of food. Individual tickets as well as tables of 10 and 12 are available. Cost is $75 per person and you must be 21 or older to attend.
To purchase tickets click here.  Questions? Call the Department of Community Programs at 908-277-2932.