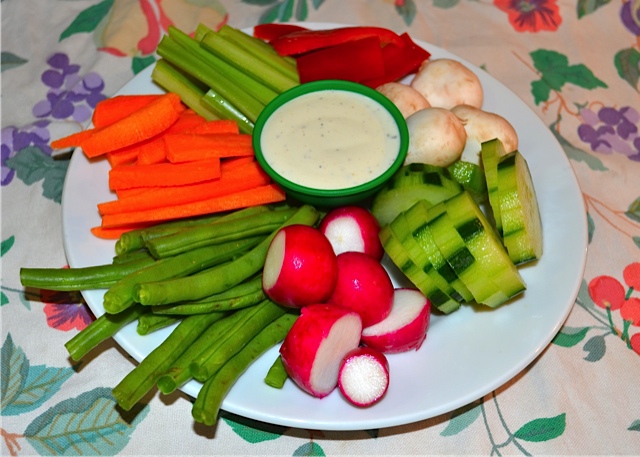 prepared by and photo by Emily S. Downs

Something I serve 5 out of 7 evenings to my family.  A friend of mine inspired me to do so, after I noticed she was serving cut-up vegetables with a side of ranch dressing to her two daughters, nightly.  They weren't big on vegetables to begin with (as most kids aren't), so her strategy was to serve a small variety and have them eat a certain amount along with their main dish.  Dipping the veggies into the ranch dressing made the eating experience a little more fun, as well as hide any undesirable flavors…

Size:

up to you!



Ingredients:
Personal selection of fresh vegetables...
Carrots
Radishes
Celery
Bell peppers
Green beans
Cucumbers
Mushrooms
Fennel
Cherry tomatoes
etc... etc...
Ranch dressing



Directions:




Wash vegetables thoroughly and cut up to desired size… for dipping.

Serve on plate/platter along with ranch dressing in dipping bowl.