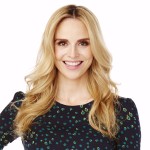 Rosie Pope, motherhood lifestyle guru, TV personality and creative director of several maternity and baby clothing lines, is joining two doctors from The Valley Hospital in Ridgewood, NJ, for a Facebook chat September 17 for expectant and new parents. We encourage you to join the lunchtime social media conversation to ask Rosie, Dr. Myrandele Damian-Coleman, an obstetrician-gynecologist, and Dr. Sherry Sakowitz-Sukkar, a pediatrician, questions on a variety of topics pertaining to maternity, childbirth, newborns and childhood early development.
During the chat, Rosie will field questions about preparing for a baby, birth plans, maternity style, nursing and newborn care. Dr. Damian-Coleman will address a variety of pregnancy questions, including about labor and delivery. Dr. Sakowitz-Sukkar will discuss a healthy diet for children, feeding in the first years of life, and childhood obesity prevention and treatment.
The Facebook Q&A will take place Thursday, September 17, 12-1 p.m. ET and participants can already post questions in the comments section that will be answered during the chat: https://www.facebook.com/ValleyHospital.