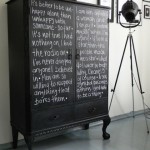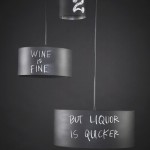 Chalkboards aren't just for schoolrooms anymore. Examples of chic, functional chalkboard decor can be found everywhere.  Chalkboard Pendant Lights by John Beck Steel are made of steel and yes, you can write on it. This steel sheet lamp shade can (literally!) send a message. Available in three sizes: 6″ x 5″, 6″ x 10″, and 6″ x 15″. 6" diameter $195, 10" diameter $250, 15" diameter $325.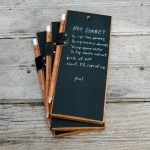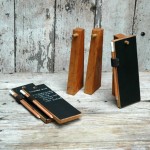 This perfect list-sized Chalk Tablet will replace any number of scraps on desktops. Made from reclaimed oak from the 1800s – early 1900s and chalkboard paint. The board is sanded smooth though may show signs of the wood's prior use such as nail burn holes, nails, bug holes etc. The back and sides are finished with natural tung oil and the sides are beveled. Hole in the top for hanging or connecting to tablet stand. Available with or without the stand. $22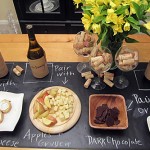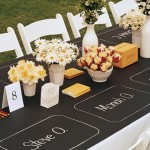 It's not always possible to paint your furniture. How about straying from the norm and covering your tables with chalkboard fabric (Joann's carries it). Think of all the great things you could write straight on the table. People's names, table numbers, menu, a joke or sentiment. The options are endless.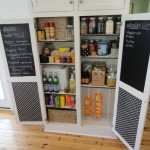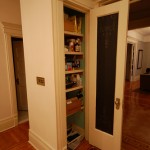 Jazz up a cabinet door using a chalkboard contact paper like on this fabulous pantry door. Seeing this beautiful to-do list makes me want to convert an old door. This is a quick, easy, inexpensive project using a roll of repositionable chalkboard paper. DIY instructions are here on the Dixie Delights website.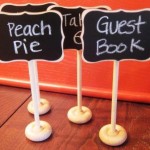 Organize your home and make your own "chalk ware" with chalkboard labels.
Original designs by Bradens Grace Chalkboard Art. She also makes Fancy Mini Chalkboard Stands with Chalkboard Labels for table settings, place settings, buffet and food signage or just little chalkboard signs around the house.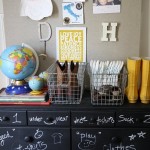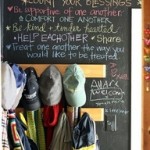 Chalkboard paint can transform a hand-me-down dresser into an adorable piece of furniture perfect for a child. Make bedtime extra special with a love note from mom. Walls covered in chalkboard paint are popular projects. Before you make one, though, read tips from Benjamin Moore on working with this type of paint. And don't forget your chalk markers for easy writing.