If you are looking for a fun neighborhood Christmas activity other than Christmas Caroling, check out neighborhood Elfing. This fun idea can get the entire neighborhood playing along, or gives your family an excuse to spread some holiday spirit. Homemade Elfing letters came about because of a neighborhood gift similar to the Halloween Ghosting and You've Been BOOED Letter.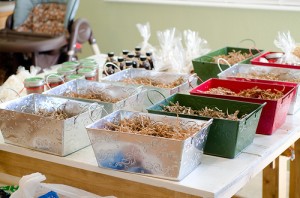 Print out the letter below or check out these free printables, find some holiday cheer (stocking stuffers, homemade cookies, candy canes, etc.), make a little sign with a Holiday elf on it. Then put them all in a little stocking or basket and leave them on someone's front steps – don't let them see you! Or leave your name on the letter so they know who is spreading the Holiday Cheer. Here's inspiration from Pennies on a Platter on how to make an impressive, but inexpensive holiday basket.
Print out and include this letter:
Twas the weeks before Christmas
And all through the house
Not a creature was calm
Especially not mom.
When from somewhere in the
Neighborhood an elf arrived
Delivering holiday cheer
Then running to hide.
An elf has taken time to share
Now you can too
Spread the spirit to those near you.
Keep your elf on your door
So others will see
That you have a gift
Under your tree.
Enjoy this Holiday Cheer
And remember to share.
Merry Christmas to All
And a Happy New Year.